If you were involved in a car accident, would you know what to do? Canstar examines the steps you need to take if you are involved in a car crash.
A car crash is something that we all hope never to experience. But accidents do occur. Should the worst happen to you, would you know what to do? Canstar looks at the steps you need to take should you come to grief out on the road.
I've just had a crash, what should I do?

If you can still drive your car, and it's safe to do so, pull over so it's out of the way of other traffic and switch on your hazard lights. Check whether anyone has been injured. If someone has been hurt, call 111 for an ambulance. You should turn off the ignition of all vehicles involved in the crash, too, if you can safely. 
The NZ Road Code emphasises that following a crash, some airbags may not be deployed. If you need to enter a crashed vehicle, don't place yourself between any undeployed airbag and an injured or trapped person. Undeployed airbags can deploy with force minutes after a crash and could injure both you and the injured/trapped person.
If it's a crash that doesn't involve any injuries, you should swap names and addresses with the other motorists involved. If the crash involved another person's property, like a fence or wall, you should report it to the owner of the property within 48 hours of the crash.
If you can't get in touch with the owner of the home, report it to the police within 60 hours of the crash. Gather as much information as you can after the accident, including photos, as they're helpful in the case of a dispute. 
When should you move someone involved in a crash?
The only instance when you should move someone before medical help arrives is when the person is trapped in a vehicle that's on fire or in danger of catching fire, or it's necessary to move them to give CPR, mouth-to-mouth resuscitation or to stop severe bleeding. If the crash victim is a motorcyclist, you should never remove their helmet.
Do I need to tell the police if I've had an accident?
All crashes resulting in injury (like broken bones or a night in hospital) should be reported by calling 105 in New Zealand or visiting your local police station as soon as you can, and no later than 24 hours from the time of the accident. Obviously in an emergency when people are injured, you'd call 111 first.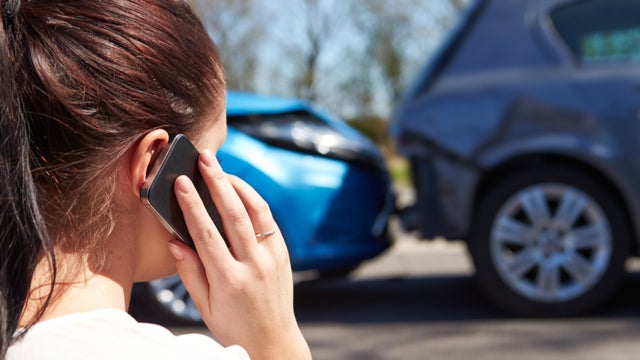 I had an accident and it was my fault, should I admit liability?
Avoid admitting liability at the scene, and avoid getting into a confrontation with the other driver. Stay calm and take down the details of what happened as you see them. Write down the time it happened, the location, the weather, and the names, addresses and phone numbers of any witnesses. The registration plates of the vehicles involved and their makes are helpful, too. 
Remember that insurance companies have every right to do their own investigations into what has happened, even if one party or the other has admitted liability, so record as many details about the crash as possible. If you're with an insurance company, it's best to let your insurance company decide whether you're at fault.
How soon before I need to tell my insurance company I've had an accident?
If you have car insurance, tell your insurance company as soon as possible. They'll require as much information as possible about the accident. Check your policy wording carefully, as you might be entitled to a rental car or compensation for transport while your car's being repaired. Every insurer has different terms and conditions on their policies. It pays to familiarise yourself with these and check if there's anything specific required from you after an accident. 
How much will my insurance pay?
Your compensation after an accident will depend on your insurance policy. If you've an extensive insurance policy, then the policy should compensate you for any damages you or the other person has suffered up to the maximum limit, minus your excess.
While it's not required that you insure your car in NZ, it's a good idea to have at least some basic form of insurance (like third-party insurance). If you don't, you could end up having to pay a lot of money to fix someone else's car as well as your own.
---
Compare Car Insurance With Canstar
Looking for great value car insurance? The grid below shows the 5-Star winners in the 30- to 49-year-old driver profile from our 2021 car insurance awards and ratings.
See here for our ratings methodology. The table above is an abridged version of our research. For the full results of our 2021 Car Insurance Ratings and Award, click here.
---
The other driver drove off without leaving me their details, but I got their licence plate. What should I do with it?
By law a driver should stop after an accident to check if anybody has been hurt. Even if a driver hits into an unoccupied car, they must try to contact the car's owner within 48 hours, or notify the police within 60 hours.
If you have their licence plate, then inform your insurance company, and they will follow it up. If you are uninsured, you can submit a request to the NZ Transport Agency online to request the name and address of a person currently registered to a vehicle. It costs around $15.
If you believe the other driver was driving in an unsafe manner you should report it to the police (by calling *555 if it's not an emergency, or 111 if it is). 
My car was hit by another car, and neither of us is insured. What are my options?
If neither of you is insured then you and the other driver can try to come to an agreement over who is liable to pay for the cost of repairing the damage to the cars involved, according to the Citizens Advice Bureau.
It's useful to get a few quotes for the repairs so you know how much to claim from the other driver – if they are at fault.
If the other driver admits responsibility and says they'll pay for the repairs, it's a good idea to get this in writing in case there's a dispute about it later on.
If you can't agree on who should pay, either party can make a claim at the Disputes Tribunal to settle the matter. The tribunal can help determine who should pay, but they can't help if one party has agreed they're at fault but refuses to or can't afford to pay. 
I'm uninsured and someone crashed into me. They admitted they were in the wrong and they are insured. How do I get my repairs paid for by their insurer?
If you're involved in an accident and the other party accepts responsibility for it, then they are liable for any damage done to your vehicle. If they have car insurance then their policy may cover any damage done to your vehicle. If this is the case, then when they put in a claim to their insurer to cover damage to their own car, they should include information about your vehicle, including whether it was also damaged. If they admit in the claim that they were at fault, then their insurer will normally cover the cost of repairs to your vehicle.
Enjoy reading this article?
You can like us on Facebook and get social, or sign up to receive more news like this straight to your inbox.
By subscribing you agree to the Canstar Privacy Policy