Tiny houses have become a popular option for those looking to get a foot on the property ladder, and in a more environmentally friendly way. But if you're planning to finance a tiny build with a home loan, you may need to rethink your plans to fund your project.
Embracing simple living in a smaller house, often built on wheels so it's moveable, has been dubbed the tiny house movement. This type of home is quicker to build and comes with lower maintenance costs, compared to those of a full-size, permanently placed house. They are designed to make the maximum use of every inch of space. However, it can be tricky to obtain finance, because a large proportion of tiny homes are transportable. In NZ, the rules for caravans and tiny houses are often seen as interchangeable. Canstar breaks down what you need to know about financing tiny living.
Tiny homes: fixed vs a transportable house
The definition of a tiny house varies from council to council. As there is no specific legislation for tiny houses, some councils treat them as buildings that need full building code compliance. Others treat them as vehicles under the Land Transport Act. It pays to check first with your local council prior to a build. Tiny houses are most commonly built and fixed on a trailer to make transportation easier.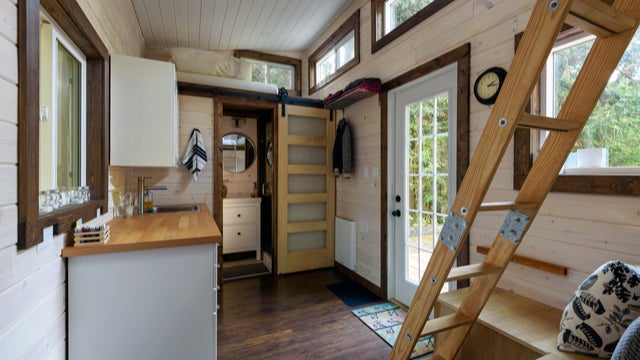 Can I get a home loan for a tiny house?
Most banks don't have clear guidelines on their lending criteria when it comes to tiny homes. But the short answer is, in most cases, no. Due to the size and nature of tiny homes, getting a standard mortgage is difficult. 
Generally, whether a lender will offer a home loan appears to rest heavily on the home's movability. Essentially, a mortgage for a home in most cases is only possible for dwellings that are immovable, i.e. built and intended to stay in one place.
If you're hoping to convert your gran's classic camper into a tiny house, then roll it onto a yard to park it, it's unlikely you'll get a mortgage. To qualify for a home loan, your structure must have firm foundations on your plot of land. 
So, what are my options?
There are a few options you can use to finance a tiny home:
Add the cost to an existing home loan
In an ideal world, you would be a current homeowner and be able to refinance your existing mortgage to buy your tiny house. Home loan finance rates are relatively low in comparison to personal loan rates, so the interest costs will be less.
Whether this method is possible will depend on your banking provider, so get in touch with your bank to discuss your options. Some banks will also allow a guarantor to secure the loan if you don't have an existing home to leverage. This is when you might call in help from the Bank of Mum and Dad, or a generous relative.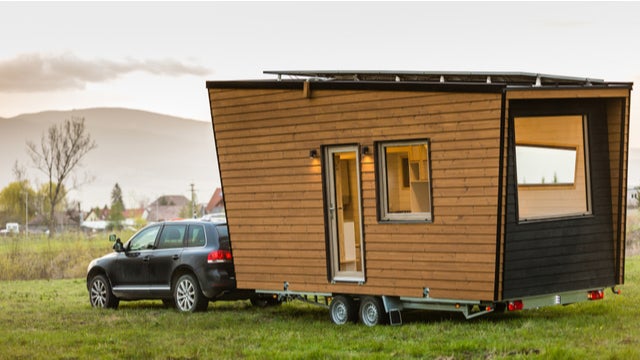 Access equity from land
If you've bought land already for your tiny house to be parked on, you could do a valuation to check how much equity you have in the land. It may be possible to bump up your loan to fund your build.
Take out a personal loan
A personal loan allows you to borrow a specific amount of money and then repay the debt plus interest in equal instalments over an agreed term. Generally, if you're employed, have low outgoings and a decent credit history, you'll be in a good position to take out a personal loan.
If you go down this route, you need to be aware that personal loan interest rates are generally a lot higher than mortgage rates. Unsecured personal loans also generally come with higher rates than secured personal loans, due to the lender's increased risk. 
But if you know your budget and are good at keeping on top of your finances, a personal loan may very well be a manageable way to finance your tiny home. Just make sure you do your homework and shop around to find a loan with the lowest rate and fees. To access Canstar's easy-to-use personal loan rate comparison tool, just click below:
Look at loans specifically for trailers and campers
There are some lenders in NZ that specialise in loans for RVs, campervans, camper trailers and motorhomes. As a tiny home is usually on wheels, it can fall under this category.
A financial adviser could help
Financing a tiny house can certainly be achievable. It may just involve a decent bit of research and some advice on how to get there from an adviser. Advisers can help direct you towards a finance option that best suits you. They'll also usually be able to point you in the right direction for specialist services, too, like insurance. 
Can I use my Kiwisaver to buy a tiny home on wheels?
Your KiwiSaver funds can only be used to buy the land for your tiny home to stand on, not the build itself. If your tiny house is on wheels, unfortunately, it will be considered a vehicle, and you can't withdraw your Kiwisaver to purchase a vehicle.
However, if you're building simply a tiny home – one that's fixed to the ground and not transportable – it's a different story. Get in touch with your Kiwisaver provider to ask for more information. Consider the pricing and timing of the build. And ensure you have proof that you can meet the relevant building codes in your area.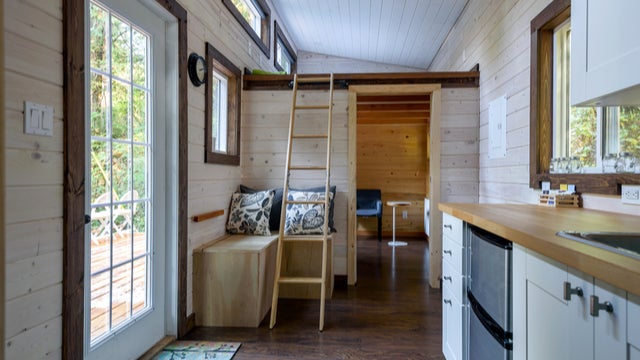 How big can a tiny home be?
If it's on wheels, i.e. designed to be transportable, the maximum dimensions a tiny home built on a trailer (without the need for a special permit) are: 2.5m x 12.5m x 4.25m high. Its weight must not exceed 3.5 tonnes.
A fixed tiny home isn't restricted in terms of size, but the maximum size will be guided by local council requirements and consideration of site specific information. This will, of course, differ across NZ. The main message here: check with your council before going ahead with any building or buying.
How much do tiny homes cost?
Like any home, this will differ depending on your choice of style, size and design. But they are relatively easy to tailor to most budgets.
Of course, the most attractive part of building a tiny home is that they cost significantly less than traditional dwellings. So you'll be looking at anywhere from $20,000 to $180,000. But this will vary widely, and rests heavily on whether you plan to build yourself or take home a pre-made, fully kitted out tiny home on wheels.
Enjoy reading this article?
You can like us on Facebook and get social, or sign up to receive more news like this straight to your inbox.
By subscribing you agree to the Canstar Privacy Policy