Home and contents cover more important than ever, says award-winning FMG Insurance
After researching analysing and comparing different home and contents insurance policies from 12 brands, FMG Insurance has come out on top as a first-time winner of Canstar's Most Satisfied Customers Award for Home and Contents Insurance.
Canstar spoke with Pete Frizzell, general manager of client propositions and communications at FMG, to find out how the brand has set itself apart, and how Kiwis can better protect their home and contents from the unexpected.
Find out how home and contents providers compared
"As a 100% Kiwi owned and operated mutual insurer, building relationships with clients and rural communities is core to our business, so to receive Canstar's 2019 Most Satisfied Customers Award means a great deal to FMG," Mr Frizzell explains.

What sets FMG apart in the home and contents insurance market?
Listening to clients and then, where we can, providing them with the cover that meets their needs.
Supporting this approach is our overall service for clients, and doing all we can to make the claims process as simple as possible.
We know that our core audience of farmers and growers have specific needs being in the country, so we offer home and contents insurance products that suit. For example, some farmers have an employee house for farm staff, we understand this and offer cover that protect both the farmer and the occupant.
When it comes to lifestyle block owners, we know the risks are different than living in the city. Lifestyle block owners may not understand these when they first move to a larger piece of land. We support them by offering advice and market-specific products such as cover for things like fencing, pumps and motors.
Outside of this FMG offers market-leading home and contents insurance cover for clients in the regions and on the farm, with the aim of providing confidence that when the unexpected happens – we'll be there.

Data has shown that New Zealanders are underinsured, what can Kiwis do to make sure their assets are insured correctly?
Firstly, if anyone is concerned about the level of insurance cover they have, they should call their insurer and talk to them about this. We're insurance experts and are here to listen and offer advice.
More specifically, there could be a number of reasons why a person is underinsured.
One example for property is around incomplete or inaccurate details. This could include property measurements and/or materials needed to repair or replace your home when the unexpected occurs.
If what's required to repair or rebuild the home is different to the information held by the insurer, there can be confusion and a gap in expectation when it comes to working through the claim.
We'd encourage Kiwis to make sure all their property details are up to date; reflecting any recent additions, and to seek a second opinion from independent valuers on the cost to rebuild.
If in doubt, call your insurer to talk it through.

How does FMG support its customers in the current climate of rising premiums?
As a mutual, FMG does not pay any dividends to shareholders. Any profits are reinvested back into the mutual to support on-going sustainability and growth.
We pride ourselves on being a 'relationship' business. Many of our rural clients are supported by either farm reviews, or a review over the phone. This is an opportunity to talk through what a client has insured and/or the type of insurance they have on a building – and to see whether there's a more suitable option.

What is FMG's advice for policy-holders to ensure understanding and disclosure in regards to policy terms?
As a member of the Insurance Council of New Zealand, we support the Fair Insurance Code.
Our face-to-face client relationship model allows clients to regularly ask questions about their policies and this is something we encourage them and all Kiwis to do.
We have also re-written all of our policy wordings in Plain English
Canstar's verdict: Why FMG won the Outstanding Customer Satisfaction Award – 2019?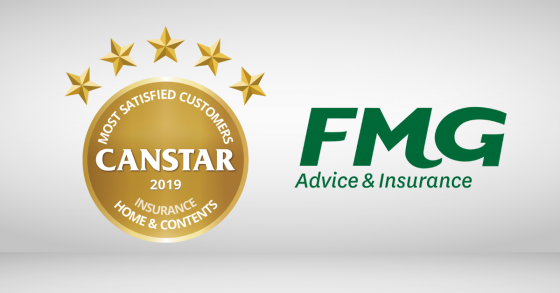 FMG's home and contents products led the competition as the only offerings to gain 5-star ratings across the board, says Canstar New Zealand's general manager Jose George.
"Whilst achieving highest scores for its 'quality of service,' Canstar research showed that FMG also achieved solid results in the 'value for money,' 'ease of claims,' 'speed of response,' and 'communication' categories.
"The brand offers a range of insurance products which represent the needs of New Zealanders – across both urban and rural environments," Mr George says.