A bride's wedding day is quite possibly a day full of pressure  to look and feel like a princess. And, while the internet can help you bring together your vision, there are always risks of shopping online. So, check out this guide before diving in! 
How much should brides save for wedding dresses?
With New Zealand's current house prices and living costs, brides and grooms-to-be could be forgiven for trying to cut costs wherever they can. The fact that the current average cost of a wedding sits at $35, 000 shows costs build up. The average wedding dress price in New Zealand is $1500 to $2000 and couture gowns are even more, starting at $3000.  So, it's no surprise Kiwis have started to look further for cheaper wedding dresses.
However, there's no one rule that says how much you should spend on a wedding dress; it essentially depends on the quality you have in mind, whether it's designer and whether you want to risk buying dresses online. You can purchase wedding dresses for as little as $100 online, all the way up to thousands of dollars if you buy from a boutique. But this doesn't mean you need to save the entire cost of the dress before purchasing. We'd recommend to start saving and researching as soon as possible, so you can decide the price mark you'd like to opt for.
Once you've chosen the price range for your wedding dress, the next step is to add this to your budget, so you can work out how much you may need to get on a personal loan or credit card to help with any wedding costs. Before getting any old loan –  and given weddings are pricey – it's important to check out personal loan rates and products before you sign up. Click below to find the lowest loan interest rates on Canstar's database.
 Compare personal loan interest rates
The same goes for if you are using a credit card for your wedding expenses.
Compare credit cards with Canstar
Styles of wedding dresses for body types
Picture this:  you're sat in a light, open room with your support team by your side and glass of champagne in hand. Your eyes scan the aisles of delicate white fabric – lace, silk, open backs, strapless, long sleeve, bohemian, traditional, sleek – the options are endless. You feel pure joy and relaxation in this moment you only dreamed of a child, knowing your perfect dress is in that aisle somewhere. But when it comes to trying the wedding dresses on, you find yourself fixated with every single one, or quite the contrary, "it's not the one". Either way, the dress perfectly fit to your body shape is probably sandwiched between the abundance of dresses you don't have the time or energy to try on. What is meant to be a feel-good moment, quickly turns into an overwhelming one.
Or, if you're buying a wedding dress online, scouting the internet for that traditional long-sleeved, low back, lace dress you always dreamed of. That's the one, $2000 a pop, ordered, bing, bang, boom. You count down the days until the wedding dress arrives, sending the link to your friends, hyping each other up with excitement. The day it arrives, you couldn't try it on any faster. But when you turn around to look in the mirror, the spark in your eye dies. It's not what you expected and certainly not fit to your body type. Now what?
Shopping online for an event can be difficult, especially when we're all of different body types and there's a very high chance the model in the picture isn't exactly the same body shape as us sat behind the screen. For this reason, we recommend you going into wedding dress shopping – whether that be online or in a wedding boutique – having an idea of the style that accentuates your best features.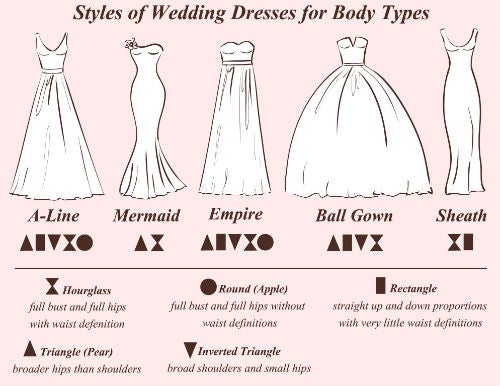 There are five main wedding dress styles:
the sheath
the mermaid
the empire
A-line and
ball gown.
Sheath wedding dresses deliver a sleek and sexy look. This is due to the fact they are tightly fitted and essentially contour the body shape. Whereas, A-line wedding dresses are fitted at the bodice but flare out from just below the bodice, all the way to the ground. This creates an unbroken line and the resulting letter A shape. Ball gown wedding dresses are very similar except the skirt is fuller.
Mermaid wedding dresses fit close to the body, flaring out at the bottom and as the name suggests, represent the shape of a mermaid. While, empire wedding dresses has a tightly fitted bodice and the fabric flows out from directly below the bodice, meaning the waistline is higher than typical wedding dresses. However, not every wedding dress style suits everyone, so we have compiled a list of wedding dresses best suited to each body type to help you make the right decision when purchasing a wedding dress.
Wedding dresses for a pear-shaped body: If you have a pear-shaped body, you typically will have a defined waist, and larger hips than bust and shoulders. You suit a large range of wedding dresses – the A-line, mermaid, empire and ball gown. Therefore, the only wedding dress shape you should avoid is the sheath. One tip, though, is to enhance your neckline, so deep necklines and strapless wedding dresses are a good option for you.
Wedding dresses for an apple-shaped body: An apple-shaped body suggests you have a lot of your shape in the middle region, otherwise known as "top heavy". You tend to have broad shoulders, a wider torso and a large bust, waist and upper back. If you have an apple-shaped body, you are quite limited in the wedding dresses you suit. The empire wedding dress and A-line wedding dress, however, will highlight your best features.
Wedding dresses for an hourglass body: An hourglass body will have a full bust, full hips and waist definition. Luckily, if you have an hourglass figure, you don't need to worry about the style as the hourglass figure tends to suit all of the aforementioned wedding dress styles. However, a low-cut neckline will accentuate your bust and a dress fit to the body, such as the mermaid or sheath wedding dress, will highlight your curves.
Wedding dresses for a rectangle-shaped body: A rectangle-shaped body is, in essence, self-explanatory – a body with straight up and down proportions and minimal waist definition. This body type suits the empire, sheath, ballgown and A-line wedding dress styles but avoid the mermaid dress as this one is best suited to curvier body shapes. A-line or sheath wedding dresses will create curves by disrupting the straight lines and pinching in just below the bodice.
Wedding dresses for an inverted triangle-shaped body: An inverted triangle body shape suggests you have broad shoulders and small hips. If you have an inverted triangle body shape, opt for an A-line wedding dress, an empire wedding dress or a ball gown wedding dress. The trick here is to opt for fuller wedding dresses so to balance out the top half to the bottom half.
Wedding dress online shopping tips from brides
We reached out to a couple of brides in the know, to get a few insider tips: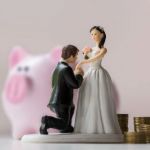 Talezza: "Do your research on the different websites there are to choose from. There are a lot of online sites and a lot of different opinions and reviews on them. Look into things like material quality, production time, shipping time and costs. Get custom measurements if it's an option. Sometimes it costs more for custom sizing but it is worth every penny! Give a real, honest review of your dress and experience with the company afterward. This helps other brides with their decision making."
Ayla Dellaway: "Trade me can be your absolute best friend! I got a dress from a store that was bankrupt -closing down – and I got it for $1.50 brand new from a bridal shop, with its $2400 price tag still on it.
Ayla also says to be mindful of sizing when shopping online at Wish. She says when ordering from Wish, you should order wedding dresses two sizes up from your usual size.
"And order two different ones cause one of them may not be the lucky one."
Low loan interest rates for a wedding loan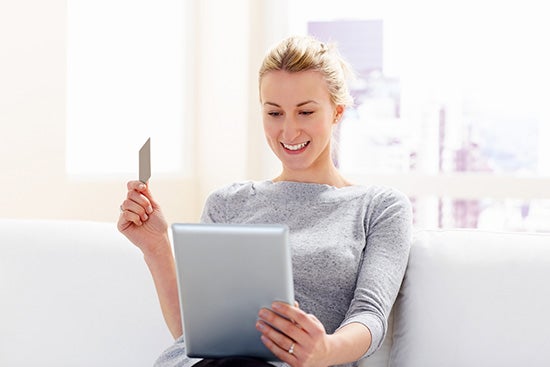 Splashing out on a wedding with upfront cash isn't a reality for every couple and that's where low interest rate personal loans and credit cards become crucial when saving money on a wedding. However, if you're not careful, interest can accumulate to a substantial amount, given the expense of a wedding. We thought we'd compare credit card and personal loans interest rates, to show you just how much you could save by opting for a low rate loan.
For a 2-year personal loan of $20, 000, in Auckland, the minimum personal loan interest rate on offer, according to Canstar's database is 6.99%, while the highest is 26.99%. That's a sizeable difference of 20%. This adds up to a monthly repayment of $895.36 for the lowest rate personal loan on Canstar's database and $1087.50 for the highest. So, if you chose the lowest personal loan interest rate under these conditions, you could save yourself $192.14 without actually having to do any more work. However, there are more to personal loans than just the rates, so make sure you compare features, too.
And, likewise, the difference in credit card loans shows it's worthwhile to compare interest rates. The lowest credit card interest rate on Canstar's database is 12.69% – with a 6-month introductory rate of 2.99%. Whereas, the highest credit card rate is 25.99%, a difference of 13.3% after the lowest credit card interest rate's introductory rate.
Compare credit cards with Canstar
Buying wedding dresses online cheap from China

Women have joined forces on Facebook wedding groups to share wedding tips. As reported on stuff.co.nz, a common theme on these pages is women purchasing wedding dresses from China, where prices are significantly lower. Wedding dresses imported from China can cost around $100, $1400 to $1900 cheaper than the average wedding dress cost. As you can see, the price difference is enough to convince any budding bride. But when prices are low, things can sometimes be too good to be true, so here's what to look out for when purchasing wedding dresses online.
Only order a wedding dress online if it's in advance. According to stuff.co.nz, Christchurch bride Jayde Hunt waited about 8 weeks for her wedding dress to arrive and despite the wedding dress being made-to-measure, it was multiple sizes too big. Ordering in advance will give you time to either get alternations or buy a new wedding dress entirely. In this case, be mindful that while you may only be spending $200 for the wedding dress online, this may be an unnecessary cost if you decide to buy another wedding dress.
When purchasing wedding dresses online, get them tailor-made. Don't risk buying already made wedding dresses, unless you're prepared to potentially buy a new wedding dress or have alternations. This is because it's nearly impossible to find wedding dresses online that are a perfect match to your body measurements.
Always check the feedback and make sure there are multiple responses that appear authentic and reliable.
Discuss with other brides on Facebook pages, as some online stores may have written the reviews, themselves, or had someone known to them write them. Therefore, reviews can be bias. One popular New Zealand wedding Facebook page  – currently with 26,000 members – is  "Wedding Discussion Group – New Zealand".
Triple-check your body measurements and, if you have never measured your body before, pay for a professional to do it instead.
Either ensure you can receive a refund from your purchase or accept the fact that you may be wasting money if you then need to purchase an additional dress.

Psst…Want some more wedding budgeting tips? Try this guide on for size:

Second-hand wedding dresses

Spending thousands of dollars on a wedding dress – only to be worn once – may seem crazy to many. That's probably why, as at February 2019, there are 14,388 listings when you search "wedding dress" on Trade Me. Luckily, though, this means there are thousands of wedding dresses on offer to brides-to-be, for a fraction of the price of brand-new wedding dresses prices. Trade Me protects the buyer to a certain extent –  if the seller falls through, or if the item turns out not to be what was advertised, you are eligible for a full refund. However, buying second-hand can be risky as the dress may not fit. In this case, we'd recommend buying second-hand wedding dresses only if there's enough time before the wedding to make alterations or buy a new dress. The great thing about Trade Me is you can either request for a refund or resell the item for the exact same price, ensuring there is no money lost in the process.

Facebook is also a worthwhile platform to buy second-hand wedding dresses, where you can either join second-hand wedding dress groups such as "Wedding – Buy sell swap and free New Zealand" or search Facebook marketplace for wedding dresses. Although, there is always the risk of unreliable sellers and in this case, there is no money back guarantee. If you are really uncertain, we'd recommend only considering wedding dresses in your area and to request trying them on first.

Still unsure about your financing your wedding dress and other expenses? Head on over to Canstar.co.nz to compare credit cards, personal loans , savings accounts  and to check out some budgeting tips.

Enjoy reading this article?

Sign up to receive more news like this straight to your inbox.

By subscribing you agree to the Canstar Privacy Policy