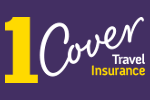 1Cover has won the CANSTAR 2016 Award for Outstanding Value Travel Insurance.
In 2016, CANSTAR researched and rated 53 travel insurance products from 31 different insurance providers. CANSTAR is pleased to congratulate 1Cover for winning the CANSTAR 2016 Award for Outstanding Value Travel Insurance, for international travel.
Why 1Cover Travel Insurance is a winner
The inclusions below represent a selection of what is covered. Additional conditions may apply to different features. CANSTAR is not making any suggestion or recommendation to you about this product. Please ensure that you read the product disclosure statement to determine all the current policy options and inclusions for the product you are considering.
1Cover showed a solid range of positive features this year, including:
Nil excess for hospital cash allowance
Higher than market average dollar amount allowances for cancellation fees, loss of deposit, emergency travel arrangements, and luggage and travel documents
Cover is provided for domestic pets left at home if your return is delayed
Nil excess is an available option
Dependents under 21 years of age are included in cover at no extra cost
Examples of standard conditional inclusions are: international waters, motor cycle, jet ski, snow sports, water sports
1Cover has previously won five-star ratings for outstanding value for their Comprehensive policy in 2015 and 2014.
About 1Cover
The 1Cover Direct Insurance Group was founded in 2003 and 1Cover Travel Insurance has already provided cover to over 1 million explorers globally. They proudly advertise that they are one of the largest and fastest-growing travel insurance providers in New Zealand.
1Cover will even give you travel insurance cover if you are already overseas on your trip when you apply. They are happy to automatically cover a whopping 34 pre-existing medical conditions under their travel insurance policies.
At the time of writing, 1Cover Travel Insurance internationally is the official sponsor of the TV show The Embassy. The show covers the true stories of Aussie travellers who run into trouble in Thailand and need consular assistance, and it emphasises the need for every traveller to have good value travel insurance.
1Cover: "We live and breathe travel insurance"
CANSTAR caught up with CANSTAR Travel Insurance Award winner 1Cover to find out traps for young travellers, what we claim and what it can cost.
Whether you're heading away for the weekend or for three months, a good quality travel insurance policy is a vital thing to pack in your suitcase. Each year at CANSTAR we research and rate travel insurance policies in terms of both price and features to determine which insurers offer Outstanding Value to Kiwi travellers. Taking the Outstanding ValueTravel Insurance Awards for International Travel in 2016 is 1Cover.
We caught up with Chief Operations Officer, 1Cover Group, New Zealand,  Richard Warburton, for some insights into traps for young travellers, what we claim and what it can cost.
Q: Congratulations on your travel insurance win. What's involved in creating a great-value product that travellers want?
A: We are very proud to receive this award, as we know that CANSTAR has a fantastic reputation for conducting in depth research across all the providers. At 1Cover we take a scientific and human approach to developing products that customers need, all delivered for a great price. We live and breathe Travel Insurance, analysing travel trends, data, and the latest travel advice, all to help give our customers peace of mind when they travel.
Q: Are there any mistakes that younger travellers in particular can tend to make? Any tips for younger travellers on staying safe and claim-free?
A: The most common mistakes we see that young travellers make is they can easily lose their inhibitions and take more risks than they would at home. Many instances and accidents tend to involve drinking too much alcohol and then having accidents.
However there are two other trends we see:
Hiring Motorbikes: In Thailand, Bali, Europe and South America we see that many travellers rent motorbikes, despite not having a New Zealand Motorbike Licence. Many then go and ride without a helmet on roads that vary in quality and it's a recipe for disaster. They will also not be covered by their Travel Insurance policy. We ask them to stop and think. Would they ride a motorbike without a licence and a helmet in NZ?
Passport carelessness: An increasingly common mistake we are seeing young people make is handing over their passport to accommodation, transport and health service providers.  Some Travellers may then be blackmailed to pay up front for sometimes claimable events, in order for their passport to be returned. We urge all travellers (especially young or first time travellers) to not give anyone your official passport document other than the police or airport authorities. Photocopies are fine to give to other services, just do not handover the actual passport.
 Q: Have you noticed any change in travel destinations, on the back of a weaker $NZ, over the past 12 months?
A: Not surprisingly we saw a surge in UK travel in 2015 to see the successful Rugby World Cup win. Interestingly, despite a 30% shift in the value of the New Zealand Dollar to the US dollar, we are still seeing strong numbers travelling to the US. We warn everyone though that US medical bills have increased significantly since Obamacare was introduced and US hospitals have drastically increased their charges. It is not uncommon to see bills for $20,000 for one night in hospital in the US!"
Q: When it comes to international travel insurance, what are some of the more common claims that you tend to see?  Do types of claims differ much between age groups?
A: Aside from Medical claims, increasingly we are seeing more stolen luggage and personal effects claims (eg Mobile Phones, tablets etc) particularly in Asia. Beware of clever distraction techniques used by teams working together on the beaches and in the tourist areas. Beachside cafes and restaurants are particular hotspots
Q:  Do you have any unusual or funny claims stories you could share
A: While not actually a claim event. In the lead upto last year's Rugby World Cup, our customer research found that nearly 20% of our customers would be prepared to streak past Buckingham Palace if it could guarantee a World Cup Final ticket! While only 10% were prepared to wear an England shirt to win the ticket!