If you're looking to boost your savings over the next year, your best bet might be to think beyond a savings account, according to Canstar's figures.
Over the past two years, New Zealand's Official Cash Rate has gone from 2.50 to 1.75. While it is not the only factor, a drop in the cash rate often does not bode well for savers, with savings rates dropping alongside the cash rate.
According to Canstar's research – based on a balance of $50,000 – the bonus saving rate has been trending downwards from January 2016 to January 2018, but one-year term deposit rates have actually lifted.
Compare term deposit providers
Over the past two years, average incentive savings rates have, overall, dropped by almost 1%. On the other hand, 12-month term deposit rates have actually held fairly steady over the past two years, in spite of the OCR drop. The average 12-month term deposit rate is at about 3.35%, around the same point as two years ago, despite a dip towards the end of 2016 (see graph).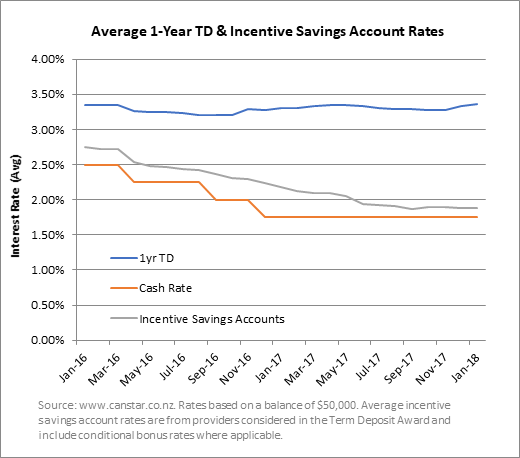 In May 2017, the Reserve Bank of New Zealand forecasted term deposit rates would be competitive, with lenders looking to secure domestic deposits, and get around the rising expenses of offshore borrowing.
For the 2018, Bank of the Year – Term Deposits Award, Canstar researched and rated 11 term deposits across 11 providers.
Compare term deposit providers
And the good news for term deposit savers is that you can give your savings an extra push, just by comparing market rates.
For example, if you're looking at a two-year term deposit, the minimum interest rate is at 2.90%, but you can secure an interest rate as high as 3.85%, according to Canstar's database as at 22/1/2018.
Have a look at how term deposit interest rates stack up:
Term
Minimum
Maximum
Average
3 Months
2.40%
3.10%
2.80%
6 Months
2.80%
3.35%
3.24%
1 Year
2.90%
3.50%
3.35%
2 Years
2.90%
3.85%
3.64%
3 Years
3.00%
4.05%
3.79%
5 Years
3.30%
4.30%
4.06%
Source: www.canstar.co.nz
All interest rates are current as at 22/01/2018 based on an amount of $50,000, assuming the interest is paid at the end of the term and is non-compounding. Please note that this is a snapshot of the market and there are other payment frequencies and terms available.
Canstar's figures in this table take into account the following factors:
Interest rates are non-compounding.
The interest payment is at the end of the term.
The interest rates are based on an amount of $50,000.
The six terms include rates from each specific timeframe.
What to consider with term deposits in New Zealand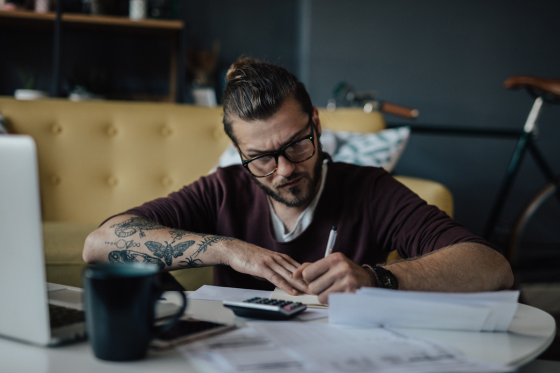 If you are interested in taking out a term deposit, there are some factors to consider, to help you decide whether this savings method will work for you.
Before signing on the dotted line, have a think about:
The tenure – a longer term could offer a more competitive interest rate, but are you in a position to lock away your money for that period of time? If you have to withdraw it early, you run the risk of losing the potential interest.
Automatic rollovers – Some term deposit providers roll matured term deposits over to the same term. This could mean losing out on extra savings if you miss out on a more favourable rate that has come on the market. It's a good idea to make a note in your calendar of the date the term deposit is due to mature.
How the interest is calculated – interest may be calculated daily, monthly, annually or at maturity. Always compare the effective interest rate between providers on the market.
To have a more detailed look at term deposit products, including Kiwibank, Canstar's Bank of the Year – Term Deposits Award winner for 2018, check out Canstar's latest term deposits rating report.

Enjoy reading this article?
Sign up to receive more news like this straight to your inbox.
By subscribing you agree to the Canstar Privacy Policy