Why not save the Canstar way with these six simple, but powerful steps?
Term deposits are a great way to get a better return on your savings than leaving the money in the bank. Read Canstar's latest term deposit report to find out what you could be earning on your savings – if you have some.
Most current accounts pay virtually no interest. Once you do build up some savings a term deposit can be a better investment option for money you need to access in the future.
Having some money tucked away for a rainy day or other purpose can be a real stress reliever. Even $5 a week adds up.
 Six steps to simpler saving
1. Think differently:
Going from a spender to a saver does require that you change something. That could be as simple as structuring your bank accounts so that a sum of money goes into savings at the beginning of the month and you live within your means on what's left. Or it can be having a budget for the first time in your life. If that's too much in one go, you could start with something as simple as buying six packs of Coca Cola at the supermarket, rather than buying individual cans from vending machines at work. Write down your goal and get started by taking one step at a time.
2. Earn more:
If you don't have enough money to save, then maybe you need to earn more. That can be done by working overtime, pushing for a pay rise, getting a new job, or doing some extra part time work. A good place to start is by writing a career plan that lists exactly how you're going to get to the next rung on the career ladder. Writing it all down and breaking it into steps makes it more likely to happen. But be careful. Most Kiwis fall into the trap of frittering away their pay rises. What happens is that what used to be special treats or occasional spending becomes the norm and your extra income is eaten up. The best thing to do when you get a pay rise is buy a one-off treat for yourself. Then adjust your budget, or account sweeps and save a good portion of the extra money.

3. Spend less:
Even if you can't earn more, or as well as earning more, learn to spend less. Almost all of us can find unnecessary and/or unsatisfying spending to cut back if we truly analyse our bank accounts. Even if you've done it before, keep a spending diary on your smartphone for a month. Log everything you spend, especially the $2 here or there that you spend on incidentals. At the end of the month, add up all your categories and figure out where you personally could spend less.
4. Be imaginative:
Look for new ways that you can save money. Maybe it's avoiding coffee this month, then not buying any clothing for a few months. Or putting your hubby/wife on a budget. Not every money saving experiment will work for you. Look for ideas online – especially at blogs and forums where people discuss their money saving tips. Believe it or not, saving money can become fun when you get into the groove.
5. Ask yourself if you're telling the truth:
Sometimes we tell ourselves things that aren't really true, such as: "I need this". Sometimes we don't need as much as we think we do in the heat of the moment. If you delay buying whatever "it" is, you probably won't need it in a month's time. It's amazing how retailers know how to push our buttons to buy stuff. That's why there's always another "price crash", which panics us into buying whatever it is we want. Or they make us feel that our lives are incomplete without the latest gadget. These great new inventions can stand in the way of saving.
6.Take control:
Sometimes we can all do things we once thought impossible. Just remember back to the first time you rode a bicycle. Even if your parents taught you nothing about money, you can still learn. It's never too late Start by looking at the people around you. Do you know someone who seems to do the impossible with their money without resorting to credit cards? Maybe someone who has paid off their student debt faster than you, or taken an overseas trip on savings, or simply isn't stressing about how to pay the next bill. They're not necessarily earning a huge income. On the other hand, be a bit wary of friends who think "everyone carries a balance" or "it's impossible to save". If you can get a more positive message going around your brain you will be more successful.
Term deposit: consider whether its right for you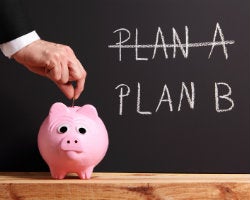 If you can't get together a few thousand dollars for a term deposit, why not consider a notice saver account? These are similar to term deposits. Your money is locked away and you must give a certain number of months' notice. But you can add to your balance, even $1 at a time, whenever you have a little bit extra to save.
Or, if you can lock your money away for longer consider KiwiSaver, bonds, shares, or funds. All of these tend to have better returns over time than a term deposit.