Earning and learning about money are vital life skills for all children and while schools and financial institutions have a part to play, so too do parents. Westpac's 2013 'NZ Kids and Money Report' highlighted some interesting discrepancies between the home-based earning and learning rates of our sons and daughters – certainly where household chores are concerned.
While the research found that the average amount of time children usually spent on chores was the same for males and females (at 2.4 hours per week), the types of chores done varied according to gender. Girls were more likely to be asked to clean bedrooms and dishes, do laundry and care for siblings, while a higher proportion of boys were asked to take out the rubbish, wash the car and mow the lawn.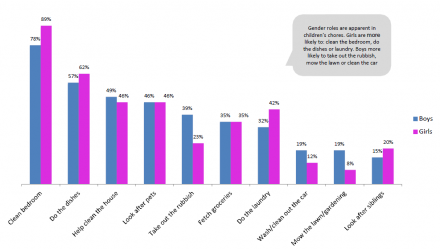 Westpac advised that boys are being given more pocket money than girls – $12.50pw vs $9.80pw. With the lowest-paid occupations in New Zealand including caregivers, kitchen hands, housekeepers and kitchenhands and many of the highest-paying roles involving an IT discipline, we should perhaps ask our girls to help us with our online banking rather than do the dishes!
Interestingly, the Westpac research also found that children who live in provincial or rural areas are more likely to have a bank account and a better understanding of the value of money than children who live in the major cities.