New product on the market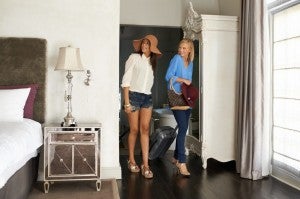 ShareCover is the new product launched by the innovation lab of IAG, Australia and New Zealand's biggest insurer. It is a home and contents insurance product designed for people who list their house or even just a room on online accommodation sharing services Airbnb and Stayz.
ShareCover policies are available for short terms and cover theft, damage, personal liability, identity theft, and loss of rental income. This covers the main fears identified by IAG's consumer research, which showed nearly 2 in 3 Australians who put their homes on Airbnb and Stayz were worried about their property getting damaged or items being stolen.
10 things to put on your home and contents insurance policy
Why ShareCover is so necessary
Peter Harmer, who leads the innovation Labs division, says ShareCover is intended to be used as an addition to standard home and contents policies. Renting a part of your own home is not usually a scenario covered by ordinary home and contents insurance, and can even void your policy, because it is considered a commercial rather than private use of the property.
If home owners aren't covered, they can face expensive repairs of their property after a renter leaves. Even worse, they could face expensive public liability claims if a renter is injured while staying on their property – which could amount to hundreds of thousands of dollars.
What about host guarantees?
The fast-growing San Francisco-based service Airbnb has a "host guarantee" that provides a form of cover up to $1 million for its hosts, but they specifically state that it is not insurance, and they list several exclusions. Most importantly, the guarantee does not include personal liability cover.
ShareCover claims to give home owners peace of mind to know they're covered while someone is paying to stay, even if their standard policy doesn't cover that situation.
Adam Beu, one of Canstar's amazing research analysts, says even if the Airbnb guarantee sounds good, you should still contact your insurer and check your coverage. Beu says, "Home owners should be aware they may be exposing themselves to risk by choosing to participate in short-term leasing programs."
Compare home insurance for Airbnb and Stayz properties
Here at CANSTAR, we regularly research and rate home and contents insurance policies. You can compare home insurance policies on our website or read our latest star ratings report for more information.