Obsessed with Game of Thrones? Then you'll want to check out these real-life locations used in the show, especially Dubrovnik, Croatia, which offers a walking tour of King's Landing.
After an excruciating wait of over a year, Game of Thrones is back on our screens, giving us all something to talk to our colleagues about. For the die-hard fans out there, there are many gorgeous locations across the globe that were used to film iconic scenes where, chances are, your favourite character was horribly murdered.
So if you're planning an overseas holiday soon and want to satisfy your inner nerd, then why not consider some of these destinations? We'll start with Dubrovnik, Croatia, a.k.a. King's landing.
Warning: Spoiler alert! (If you're not up-to-date on GoT episodes currently airing in New Zealand, then this list will contain mild to serious spoilers.)
Walking tours of King's Landing
A must-see destination for any Thrones fan is the Croatian city of Dubrovnik, which has been the set location for King's Landing since season 2. In 2016, it was visited by a total of 1.1 million tourists, many of whom took part in a Game of Thrones walking tour.
The city is 2km long and its 6 metre thick stone walls give it an imperious look. It was in fact besieged by Serb and Montenegrin soldiers for seven months in 1991, taking heavy damage as a result.
It was a popular tourist destination long before Game of Thrones came to town; this city was prominent for maritime trade in the 15th and 16th centuries and is now listed by UNESCO as a world heritage site.
A King's Landing walking tour is exactly what it sounds like: a local guide, expertly drilled in both the history of Dubrovnik and the lore of Game of Thrones, takes you on a 3-5 hour tour of the old town.
This tour will highlight many recognisable locations in Game of Thrones, such as:
The city walls, which have been used extensively throughout the series
The Great Sept of Baelor (mostly computer generated)
Minceta Tower, where they filmed the House of the Undying scenes in season 2
Lovrijenac Fortress aka the Red Keep, where King Joffrey held court and tortured his minions
Lokrum aka the city of Qarth, where Daenerys filmed her scenes for season 2
Blackwater Bay, the location of the infamous battle episode between the Lannisters and Baratheons in season 2
Source: GameofThrones
These are the main attractions to the city, but as you'll find out, there are countless hidden locations that have been used for important scenes in the show. These tours can be booked through a variety of different websites, and they come highly reviewed from the many people who have participated.
At the time of writing, a 3-hour tour costs around $70 USD, or about $90 AUD. This is reasonably cheap for what will make an exotic and fascinating day out!
If you've decided that you want to do a Game of Thrones walking tour in Dubrovnik, then make sure that you check if your travel insurance provider offers cover for Croatia.
10 more famous Game of Thrones locations
Game of Thrones is a massive show, and the Westerosi Capital is just one of many locations seen in the show's now 7-season run. If you're planning an overseas trip soon, then maybe you can plan your trip around some of the following 10 filming locations for Game of Thrones.
1. Trsteno, Croatia (King's Landing Palace Gardens)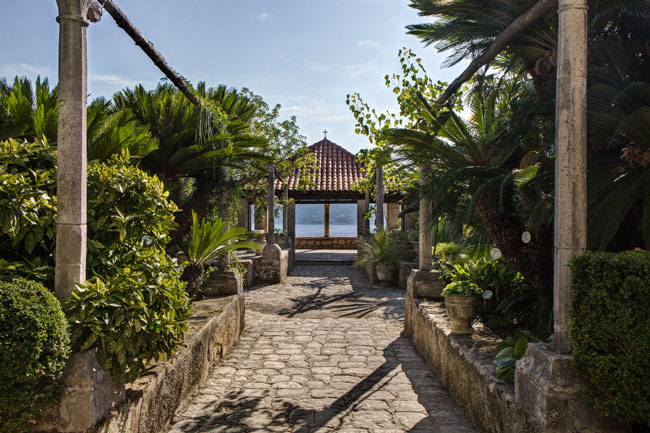 Staying just outside of Dubrovnik, for now, is the Trsteno Arboretum, which you can visit as a part of the upgraded tour package. Complete with thousands of trees and exotic plants, this is where the crew filmed the numerous scenes that take place in the King's Landing gardens.
You can almost hear the charming characters of King's Landing plotting away here in what is one of the oldest arboretums in the country.
2. Alcázar de Sevilla, Seville (the Water Palaces of Dorne)
One of the most stunning locations used in Game of Thrones is the lavish royal palace of Seville – the Alcázar. You might recognise this place as Dorne, which has been one of the low points of the series (in this author's opinion).
Despite the plotline's lack of brilliance, the setting itself is superb. Dorne is supposed to be a war-free and beautiful place in the south of Westeros, and the Alcázar Palace reflects this to perfection. Spectacular Spanish Christian architecture and extensive water gardens that shimmer with life, this destination is a must-see even if you aren't a GoT fan.
The production crew received permission to shut down half of the palace for the duration of their season 5 shoots, despite the fact that it is one of Seville's biggest tourist attractions. In fact, due to its historical status, filming is usually not allowed there, which caused some logistical problems for the crew.
Source: Game of Thrones
3. Osuna, Spain (Daznak's Pit)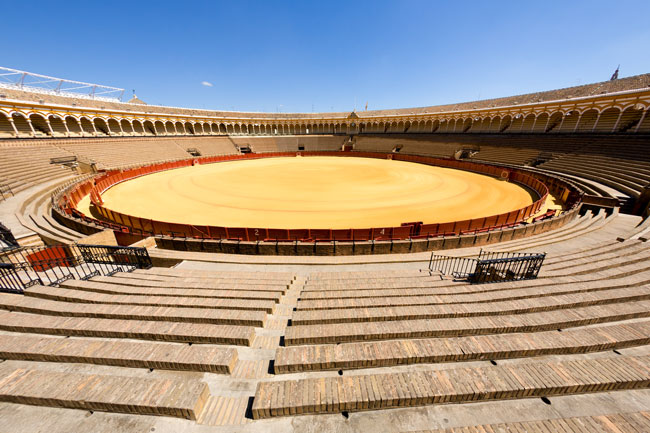 The third entry in this list is sticking close to the Alcázar Palace in Seville. Osuna is small historic Spanish town about an hour's drive east of Seville, and the Plaza de Toros arena you can see above served as the location for the memorable scene in season 5 in the fighting pits of Meereen.
Behind the scenes details tell us that this scene took a whopping 12 days to shoot and used over 500 extras, which is more extras than many blockbuster movies use in total!
The town is quite proud of its involvement in Game of Thrones and even has a museum full of memorabilia it kept after filming was done. Osuna is over 3,000 years old and has an impressive range of Spanish palaces and churches. In particular, the Calle San Pedro (a street) was named the second most beautiful street in Europe in 2015.
Osuna offers guided tours just as Dubrovnik does, which can double up as a guided tour of the Alcázar Palace.
4. Castillo de Zafra, Spain (the Tower of Joy)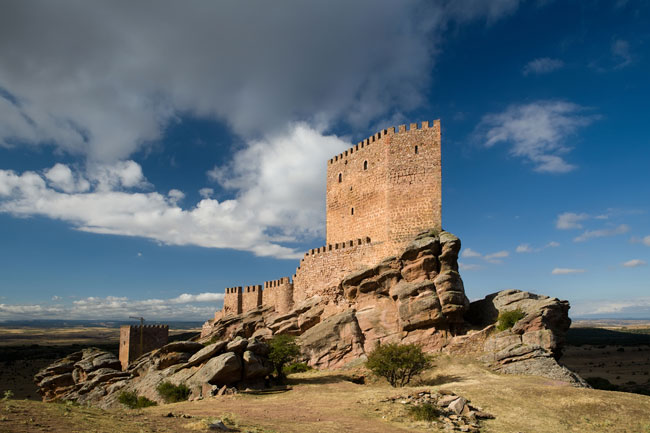 Still in Spain but moving a bit further out is the Castillo de Zafra, the home of a very spoiler-y storyline which we won't go into too much detail on here!
This tower sits in between Madrid and Barcelona and was built in the late 12th century as a key strategic outpost. The purpose of this tower was to protect the border between Christian and Muslim-ruled territory.
It was rebuilt in 1971 after suffering significant damage and is now recognisable as the Tower of Joy from season 6 of Game of Thrones.
5. The Bardenas Reales, Spain (the Dothraki Sea)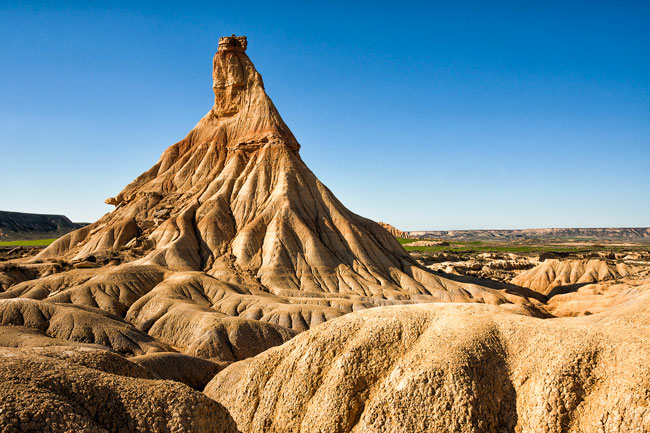 A lesser known but still wondrous location used by the Thrones crew is the Bardenas Reales: 104,000 acres of Spanish Badlands consisting of clay, chalk and sandstone. This location was primarily used for season 1 when Daenerys Targaryen was travelling with a Dothraki horde, and again in season 6 when she is doing the same thing.
Game of Thrones isn't the only production that's taken place here; its unique vegetation and rock formations were heavily used by western films during the 1950s.
Declared a national park in 1999 and a Biosphere Reserve by UNESCO shortly after, the Bardenas Reales is one of the finest locations in Spain for observing natural beauty.
6. Girona, Catalonia (Oldtown and Braavos)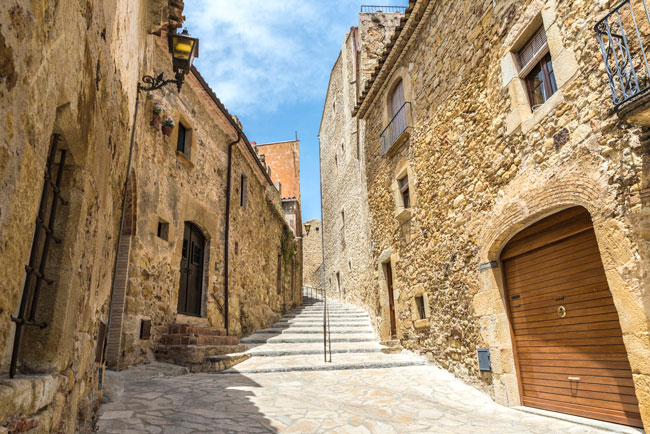 The final Spanish – or rather, Catalonian – location on this list is Girona, the location used to film scenes in Oldtown and Braavos throughout seasons 5 and 6. Some external shots for the Sept of Baelor were also done here. You might recognise places like the House of Black and White and the Citadel from the show in this old place.
Girona is 100km from Barcelona and offers imposing medieval walls and gothic architecture to history buffs and Game of Thrones fans alike. There are plenty of concealed alleyways and marketplaces throughout as well, so there is plenty to side-track you from nerding out.
It's a shame that poor Arya spent most of her time in Girona blind and couldn't really appreciate it!
Source: GameofThrones
Compare Travel Insurance Providers with Canstar
7. Dark Hedges, Ballymoney, Northern Ireland (the King's Road)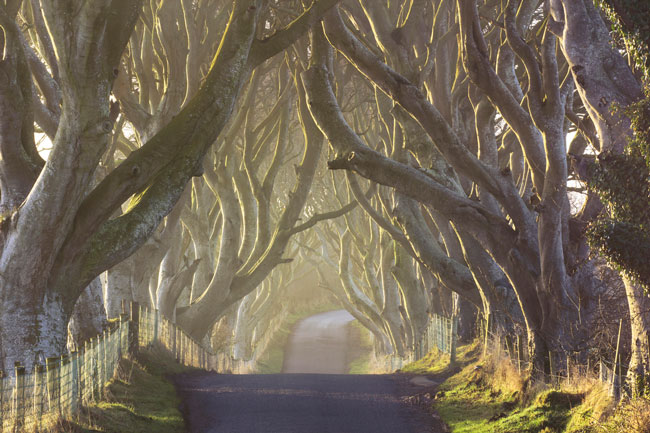 One of the most unique roads in the world is the Dark Hedges road in Ballymoney, Northern Ireland, which was used as the Kingsroad in some of the earlier seasons. The trees you can see here were planted in the 18th century, growing together to form a strange hedge-like appearance.
This one doesn't come with a guided tour, but this is actually an advantage; it's completely free of any tour guide or entry charges, and it serves as an excellent option for a drive or tranquil walk. It is also extremely popular with photographers and other filmmakers.
If you can get there early enough and beat the crowds, then Dark Hedges make for an excellent background shot for your desktop or smartphone!
8. Castle Ward, Northern Ireland (Winterfell)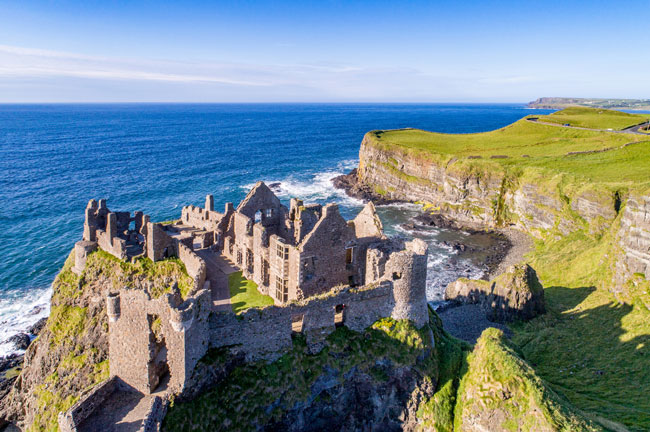 Although a lot of it is digitally enhanced, this 18th century castle in Northern Ireland is the location of Winterfell, one of the shows most popular and famous destinations. 8 weeks were spent building parts of the set in preparation for pilot episode several years ago, and it is still being used as the home of the Starks today.
The castle is easily accessible for thronies – it's just 40 minutes from and 2 hours from Dublin by car and bus. There are both free-roam and guided tours available on site.
Tour providers recommend spending about 3 hours on site in order to fully enjoy all there is to offer, including:
Medieval banquets in the style of Game of Thrones
Meeting the actual dogs used to play the Stark Direwolves
Archery in the Winterfell archery range, as seen in the first episode
Source: Winterfell Tours
9. Vatnajökull, Iceland (North of the Wall)
This is one is much more out of the way than the others, and it's best suited to real adventure lovers who don't mind a bit of icy weather. This is the Vatnajökull Glacier in Iceland – the largest glacier in Europe.
It offers an absolutely incredible landscape, which you can see throughout the show from the sweeping scenes north of the wall. It's just a shame that most of these scenes feature so many corpses!
The Vatnajökull National Park is so vast that it covers 8% of the total area of Iceland, so accessibility isn't an issue if you're in the country. You'll just need to bring warm gear and some hiking boots. While there you'll see such landmarks as Hvannadalshnjúkur, Iceland's highest peak, Europe's most powerful waterfall, and Jökulsárlon, an ice-riddled glacier lagoon.
Also keep an eye out for where they filmed the Bond movies A View to a Kill and Die Another Day.
Source: GameofThrones
10. Ait Ben Haddou, Morocco (Yunkai and Pentos)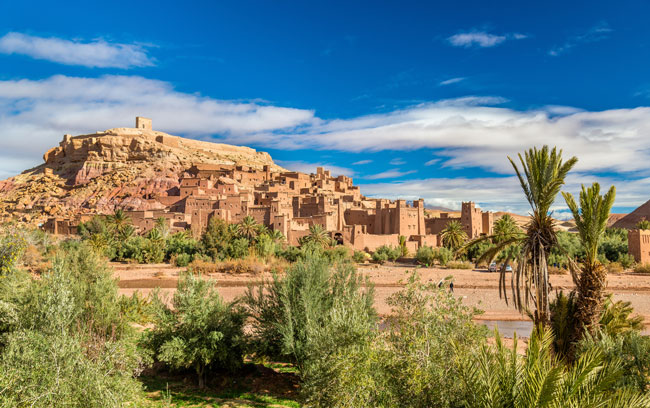 The final destination on our list is Ait Ben Haddou, a traditional mud city in Morocco. Built in the 17th century, it is a UNESCO World Heritage Site and used to be a major stopping point for Moroccan traders.
Ait Ben Haddou has a rich history in film. Not only has it appeared as the Slaver's Bay cities of Yunkai and Pentos, but it has appeared in more than 10 movies, most notably Lawrence of Arabia and Gladiator.
Guided tours are available in the city, but most won't be focused on Game of Thrones. However, this shouldn't be a problem, as there is enough there to keep you occupied for hours.
Why you should add Game of Thrones locations to your next holiday
There might not be quite enough to justify an entire overseas holiday around the Game of Thrones locations, but if you're heading to one of these countries, then it's a great idea to add them to your itinerary. It would be fascinating to see how the production crews transform these old cities and sprawling landscapes into the fictitious places you see on the screen, and chances are you'll learn something interesting along the way.
When booking an overseas trip for a Game of Thrones walking tour, ensure that you buy travel insurance – because if you can't afford travel insurance, you can't afford to travel! To help make this decision, you can compare travel insurance providers on the Canstar website.
Compare Travel Insurance Providers
And if you're not sure how you're going to pay for guided tours when you get there, consider travel money cards or travel debit cards. Canstar compares both of these products to help you make your decision:
Compare Travel Debit & Credit Cards
Enjoy reading this article?
Sign up to receive more news like this straight to your inbox.
By subscribing you agree to the Canstar Privacy Policy