Whether you are spending a few days on the road or chasing the sun in Bali, holidays present a great opportunity for New Zealand families to get away and destress, according to
World2Cover
.
Claudio Saita, Deputy CEO and Executive Director in Australia for Tokio Marine, underwriters for
World2Cover
travel insurance, said that with overseas travel for kids on the rise and increasing time pressures placed on parents, a hassle free holiday has never been more important.
"Outbound travel for youngsters has increased across the board in the last decade. This shows that families are definitely exploring the world, but it also highlights the importance of adequate cover to ensure peace of mind and solid planning to support the best holiday experience," she said
To help maximise the family holiday experience, the team at World2Cover has provided these top tips:
Travel sickness
Travel sickness is most common in children between two and 12 years old and can be unpleasant for everyone. To help avoid queasiness in the car, ditch the books or tablets and instead get your child to focus on playing games like 'I Spy' which direct their attention out the window. If flying, try other natural remedies include wearing acupressure wristbands and chewing ginger lollies.
Stomach upsets are also a common medical problem affecting travellers of all ages, but younger children are at higher risk of tummy problems as they are still building their immune system. Avoid risky foods such as seafood and ensure bottled water and hand sanitiser is always packed, especially when travelling in less developed countries.
Up and away
For kids, the sensation of having their ears pop during a flight can be especially painful and even scary at first. Depending on their age, consider giving infants a bottle of water or juice to sip from and older children a sweet to suck throughout take-off and landing.  Specialist in-flight earplugs are also good alternatives as long as your child does not have a cold or sinus congestion.
Speaking of earns, swimmer's ear can be triggered by over exposure to water and is common for kids who spend lots of time in the hotel pool or the sea. To prevent this, keep swim sessions short and dry your child's ears thoroughly when they get out.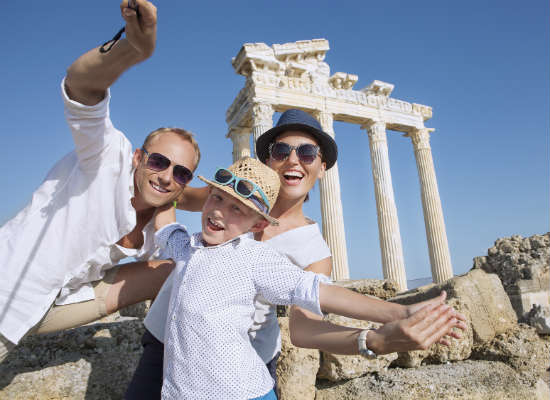 Out and about
Holidays are a great time to get outside but that means sun protection and hydration are critical. Children are much more prone to dehydration than adults because their bodies don't cool down as efficiently.
Offer them lots of drinks and regularly apply high SPF sunscreen. Try to avoid unnecessary midday exposure when the sun's rays are at their strongest.
Youngsters often love animals and want to pet these 'new friends', but stray cats and dogs can often carry fleas and even rabies in developing countries. Warn your children of the dangers of being bitten and stay extra vigilant if you come across a stray animal. If your child is bitten be sure to take them straight to a doctor.
And in terms of being bitten, mosquito bites are itchy, unpleasant and can cause serious skin rashes if left untreated. Invest in sprays and room plug-ins with a high level of DEET, and to be extra safe, use mosquito nets at night and on your pram. Keep an antihistamine lotion to hand, just in case. If travelling when pregnant be sure to check up the latest information on the Zika virus, which now includes Fiji and Singapore.
Want to know more about travel insurance? Check out Canstar's latest Travel Insurance Ratings report.