Canstar has rounded up a mix of award-winning beaches, as well as some gems the Canstar team has visited, to help you on your way to planning your dream beach holiday. 
Baia de Sancho, Fernando de Noronha, Brazil
Winning first place in TripAdvisor's Travellers' Choice top 25 beaches over multiple years, Baia do Sancho has been known to amaze anyone who's stepped foot on its sand. Once you've accomplished the mission of vertical ladders and stairs to get there, or the alternative boat option, you will be faced with turquoise serene waters surrounded by Brazil's famous forest-laden cliffs. 
Whitsundays, Australia
The Whitsundays consist of 74 islands unlike anything you've seen before – teal blue waters intertwined white sandbanks create a koru-shaped pattern and are home to coral and marine life. The islands themselves are, for the most-part, unoccupied and embrace white sands and dense rainforest.
Phi Phi Island, Thailand

You may have seen this small island off the coast of Phuket flooding your social media feeds. Clear turquoise waters meet green fringed rocky cliff faces and, with the year-round heat, you can visit in any season. Canstar recommends going at sunrise to dodge the thousands of tourists that visit every day. Note, Thai authorities have extended a temporary ban of visitors getting off the boat at Maya Bay, due to environmental effects, until 2021.
Anse Lazio, Praslin Island, Seychelles
Constantly ranking high in lists of world's top beaches, Anse Lazio adorns clear blue ocean, palm trees, boulders and soft, white sand. This is a beach that screams, or should we say whispers, relaxation. You can enjoy both the waves along the main strip, as well as snorkelling around the rocks. Seychelles is a destination off the beaten track for many – a world wonder often forgotten about. However, we think this beach is worth a place on any beach bucket list. 
Waikiki Beach, Oahu, Hawaii
Unlike the other beaches on our list, Waikiki beach is surrounded by high-rise buildings and is a scene for a wide range of water sports. As such, it caters for everyone from young holidaymakers, to families or even the elderly. Fortunately, the action-packed water sports don't take away from the beach's natural beauty of pristine blue ocean and golden sands, and the view of the volcanic cone, Diamond Head, in the distance. 
Navagio Beach, Zakynthos, Greece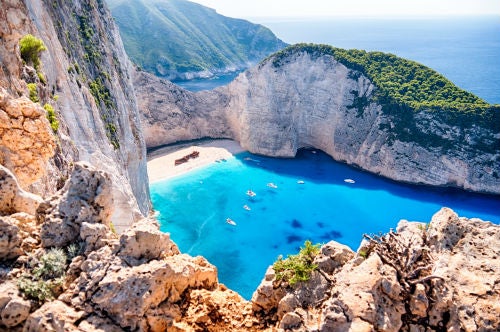 Only accessible by boat, this island is arguably one of the best beaches in Europe. Surrounded by limestone cliffs and a shipwreck centred within the blue waters, its magnificence is best appreciated from the viewing platform in the cliffs. The white sands and calm waters offer optimal relaxation after your hike. 
If you are thinking about travelling to one of these beautiful beaches, don't forget how important travel insurance is, just in case things don't quite go to plan. To make it easier for you, Canstar offers free comparison tools to help you to better understand the features and options available to you across the travel insurance market.