Co-author: Michelle Norton 
Taking a trip with your children these holidays? Here are Canstar's  top 10 tips to stop the bickering and to enjoy your time away, no matter how far you are travelling 
The best gift you can give your kids this holiday season is time, with your full attention and lots of love. Sometimes a holiday away can be just what the doctor ordered for your family. Then again, being away from home with children can also come with its own set of challenges. That's why we've got some ideas to help minimise the stress this holiday season.
Top 10 tips for travelling with children
1. Don't go far in a day
If you can help it, avoid taking long drives in one day. Spread your journey out with multiple stops for things the kids will enjoy – an icecream stop here and there or even a quick stop off at a park to let off some energy could make all the difference. Help your children stay engaged by "helping to navigate" on a map print out that they can scribble on. A lot can be said for helping children feel included in the journey.
It's probably also best to reserve the extra long walks for kid-free trips. Young kids, especially, have their limits before the whining kicks in – no matter how well behaved they are. Don't forget, their idea of a fun holiday might be jumping in mud puddles and climbing a tree, not walking for hours to see a famous landmark.
2. OK Google, Show me kid friendly activities near me
If you're away for a whole week, plan to hit any big attractions mid-week so you can avoid the weekend crowd. It's always a little hit-and-miss with what kind of children's activities they'll have at museums or galleries. Google is your friend when it comes to finding something fun, a simple search of "kid friendly activities near me" could be enough to save a day of complaining. You can often hit a home run with a free guided tour where your kids can ask an expert everything they want to about dinosaurs, or planes, or the history of pirates.
Got your travel insurance? It pays to be prepared, you never know what could happen when away from home. Use Canstar's free comparison tools to help you choose a provider and policy that work for you and your family.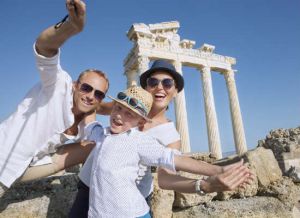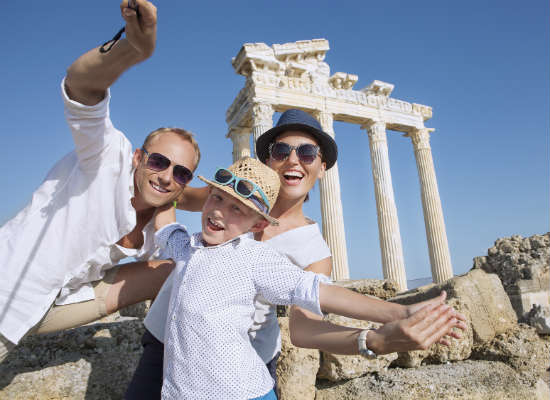 3. Awaken the imagination
You can do a lot of easy things to get your kids as enthusiastic to go travelling as you are. Watch a movie or read a book about your chosen destination. Show them where the country or town is on a globe or on Google Maps. A ruined fort can be more than just a pile of old bricks if you dress up in medieval costumes and have a sword fight among the empty walls.
4. Plan for grumbling tummies
Bring a whole day's worth of snacks. Snacks, not sugar! Nuts, crackers and fruit are all safe ideas. And bring lots of water – you all need to stay hydrated when you're on the go.
Think about where you'll find breakfast, lunch and dinner. Most kids aren't too fussed about fancy restaurant food, but if you can find a diner or another place with simple, hot food, you should be okay. When you're in a strange place, anything that feels familiar is a winner.
5. Pay in advance to save in bulk
Even just two adults and two kids is an expensive day out, whether you're buying plane tickets or cinema tickets. Look for online discounts and two-for-one offers in advance, or ask if they have a family group discount. Pay in advance instead of paying through the nose at the door.
6. Accommodation that's right for your family and your budget
No one needs to stay in a hotel, but you don't need to freeze in a tent either – unless that's your kind of thing. A farm stay where the kids get to help feed the animals, or go hiking in the hills, can be a great way to make memories and save money.
7. Call a friend
If you have teenagers, you probably have teen angst on family holidays because they've been taken away from their friends during their only time off school. How could you? You can take that angst away by letting them bring a friend along with them – someone to hang out and have fun with, who's not an 'annoying sibling'. It can be a huge relief to them and you.
8. The Mary Poppins bag
Keep all your essentials in one bag when you're out during the day. Obviously you'll want to keep your vital passports, tickets, and accommodation details with you, but you'll also want everything you might need during the day:
Aforementioned snacks and water.
Magic stuffed animal that sends your little one to sleep on the train.
Prescription medication and kids' and adults' painkillers.
Band-aids (and lots of them!).
MP3 player/mobile phone loaded with some favourite music for each person.
Torch.
Mobile phone charger (don't get stuck without it).
Rain coats.
9. Teach your kids to pack
Teach your kids how to pack their own bags. Get storage cubes – ziplock bags for keeping things separate and safe within their bigger pack – so they can easily find clean socks in a hurry.
Teach your kids how to pack light and make sure everyone carries their own. After they've had to lug around a heavy suitcase on their own once, they'll never forget to pack light again.
10. Set a budget but stay flexible
Make sure everyone knows how much money they have to spend on souvenirs and snacks each day. Of course, it wouldn't be a holiday if there weren't one or two special treats. Take them out for a late-night gelato. If it's not in the food budget, stretch the budget elsewhere. And talking budget, don't forget to take travel insurance with you. It's a small cost that could end up being a big budget saver. To help you find a policy and provider that suits your family's needs, Canstar compares travel insurance providers, weighing up cost against the features they provide. To have a look at what's available in the market, use our free travel insurance comparison tools, below.
Compare travel insurance with Canstar