Co-author: TJ Ryan
Forget Pokemon GO – for a truly immersive online experience try booking.com instead.
So you've found the perfect destination and booked an amazing place to stay… But how do you decide what activities to see and do while you're in the area?
Booking flights and accommodation online is standard practice for travel, and Booking.com has just announced the pilot release of its new product for booking the things you want to do when you get there: Booking Experiences.
Booking Experiences is a first-of-its-kind, highly curated, mobile-led experience. It is designed to harness artificial intelligence technology and powerful machine-learning to predict individual traveller intent and create a truly convenient, personalised in-destination experience.
Booking Experiences eliminates the need to book in advance or wait in lines to buy tickets— simply show up to the attraction you're interested in, scan the code from your smartphone and enjoy.
– Booking.com website
The product is being rolled out gradually from country to country, with Amsterdam, Paris, London and Dubai live as at the end of July 2016.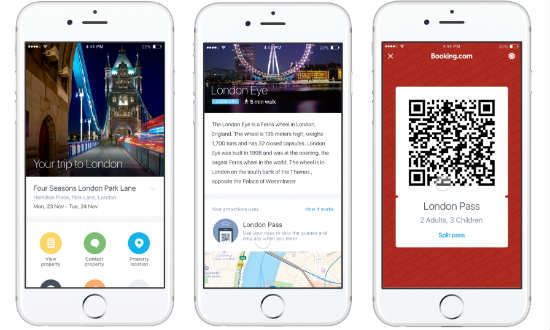 Booking.com pilots a new mobile-based in-destination experience (Photo: Booking.com)
Booking Experiences is managed entirely via a single QR code within the Booking.com app. That way a traveller can get instant booking access to all of the participating venues and attractions for a destination. The QR code is automatically linked to your credit card of choice.
"With Booking Experiences, our passion for data-driven insights, our deep knowledge of travel, and our ambition to smartly infuse artificial intelligence technology into our product are all coming together to create a new, uniquely mobile travel experience that's curated, seamless and personal," said David Vismans, Chief Product Officer at Booking.com.
"The technology behind Booking Experiences will continuously learn from your travel preferences, as well as other travellers like you, to eventually present you with increasingly curated options that are just right for you. Our ultimate goal is to keep you inspired, regardless of whether it's your first or fifth time visiting a particular location."
Where do Kiwis travel?
Kiwis love to travel, with more than 2.46 million of us taking an overseas trip in 2015-2016, and 223,000 NZ residents taking an international holiday in June 2016 alone (NZ Statistics). This year, the countries that the most Kiwis visited were… (Hover over countries in the map to see just how many.)

And to put that in perspective, here are just the countries that hosted more than 20,000 Kiwis this year:
Australia: 1.14 million
United States of America: 176,160
Fiji: 153,820
United Kingdom: 113,300
China: 91,220
Cook Islands: 86,220
Samoa: 54,880
India: 52,940
Thailand: 43,160
Indonesia: 40,220
Japan: 31,300
Tonga: 27,580
Canada: 24,000
Philippines: 22,240
Singapore: 21,520
Source: New Zealand Statistics
According to the Travel Agents Association of New Zealand, Kiwis are not expected to travel less even when the New Zealand dollar is weak.
CEO Andrew Olsen says, "They are almost impervious to fluctuations in the dollar. The figures haven't gone down in 35 years.
"If you really want to travel, you have a budget and you cut your cloth to suit, and you go where you have your heart set."
Part of having a budget and making the most of it is using the right kind of travel money. Travel credit and debit cards have their advantages, as do travel money cards, and even good old-fashioned cash is still necessary in many countries. Doing a bit of research about the best cards to have on hand is a great idea, and we can help make your trip smoother if you compare your options on the Canstar website before you go.