New Zealanders' electronic card spending has increased by millions in August 2016 compared with the same period in 2015, but spending is easing off overall.
Electronic card spending in August has increased by $166 million compared with the same period the previous year, despite a $36 million drop in fuel spending.
Statistics New Zealand has released its August 2016 electronic card figures, revealing a spike in spending in five out of six retail categories, with a combined total of $4.7 billion put on the plastic.
In total, card-holders made 131 million transactions in August across all industries, with an average value of $49. The total amount spent across all transactions was $6.4 billion.
Compare transaction accounts with Canstar
Compared with August 2015, electronic card spending has increased 3.7% across all retail categories, except fuel, where spending has decreased by 6.1%.
Lower fuel prices means New Zealanders are spending less at the pumps, Neil Kelly, Statistics New Zealand business indicators senior manager says.
Petrol prices are around 20 cents less a litre than in August 2015.
Many New Zealanders have also proven their dedication to hunting for cheaper fuel prices, with Canstar Blue research revealing 32% of Kiwis will drive to a cheaper fuel station. More than half (52%) actively monitor fuel prices.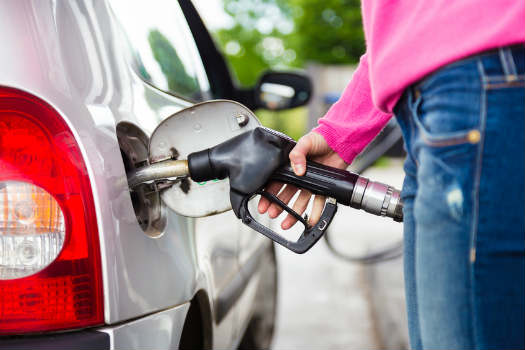 Electronic card spending drops from July
While electronic card spending has increased compared with the previous year, spending has actually decreased across most retail categories, when compared with the previous month this year (July 2016).
The total value of electronic card spending in August, including on services and non-retail categories, decreased by 0.8% compared with July.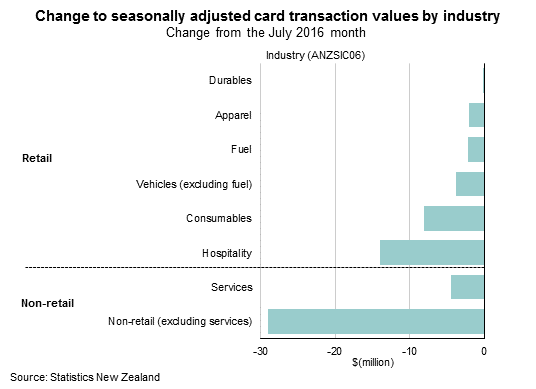 In fact, electronic card spending has fallen in five of the six retail categories:
The largest decrease is in hospitality – down $14 million (1.5%). This category includes spending at accommodation, bars, cafes, restaurants and takeaway outlets.
Spending on consumables has also decreased by $8.1 million (0.5%). The consumables category includes grocery and liquor retailers.
According to Statistics New Zealand, electronic card spending has been rising since it started recording these transactions in 2002. However, spending appears to be easing in recent months.
See what's on the market for card providers
In 2016, Canstar researched and rated 54 savings and transactions accounts across 11 institutions, including comparing any fees for using cards. In addition, Canstar compared 53 credit cards from 10 lenders, so you can see the options available on the market.
To find out more on what options are available for transactions and savings accounts, read the report here. Or, if you're in the market for a credit card, make sure you're getting the best value, rate and rewards to suit your own style of spending. Canstar has crunched the numbers on credit cards, too.