New Zealand has been crowned the best country in the world to do business, according to the World Bank.
New Zealand has been ranked the easiest country in the world to do business, bumping Singapore off the top spot, according to the World Bank's latest business report.
The World Bank's Doing Business 2017: Equal Opportunities for All report ranks countries from 1 to 190 based on 10 aspects of working in business. New Zealand has moved up these ranks from third place in 2014 and second in 2015 to claim the top spot this year.
Why New Zealand is a great place to do business
New Zealand placed in the top spot for starting a business, dealing with construction permits, registering property, getting credit, and protecting minority investors.
New Zealand has made it easier for businesses to pay their tax by getting rid of the cheque levy, and by decreasing the accident compensation levy employers have to pay.
However, New Zealand also increased the cost of paying taxes by raising property tax and road user levy rates, the World Bank report states.
Report reflects government focus on cutting business costs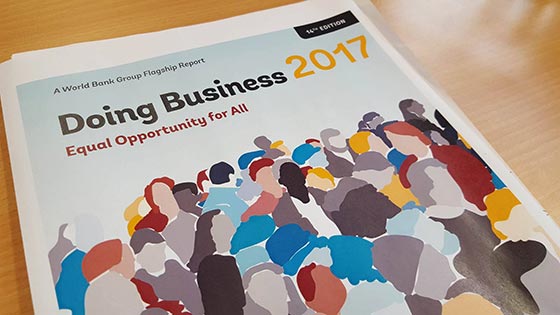 Economic Development Minister Steven Joyce says,  in a media statement: "The report highlights the good work government agencies are doing, through our comprehensive business growth agenda, to reduce the cost of doing business."
"There is always room to improve further and the government will continue to work hard to make it easier to do business in New Zealand," Mr Joyce says.
Reducing the regulatory burden is all part of creating a competitive and productive economy that provides more and better paying jobs for New Zealanders and their families.
New Zealand is 14 places ahead of Australia, which comes in at place 15 for ease of business.
Statistics New Zealand figures also show the business sector is performing well, with a total of 515,000 enterprises as at February 2016, an increase of 1.6% from the previous year. This is the fourth consecutive year that more businesses have been started than closed down.
Businesses across New Zealand now employ a total of 2.1 million paid employees, an increase of 2.4% from 2015.
The World Bank has been releasing its business reports annually for the past 14 years. The report categories analyse the country's economic outcomes, as well as whether business regulations have been effective.
Key rankings for New Zealand: World Bank report
Starting a business (1)
Dealing with construction permits (1)
Registering property (1)
Getting credit (1)
Paying taxes (11)
Trading across borders (55)
Enforcing contracts (13)
Resolving insolvency (34)