Should you take your pet to work? Plenty of people do!
New Zealanders love their pets and from better physical and mental health to simply the comfort of having a family member who doesn't answer back, research has found plenty of benefits of pet ownership. So if having a pet at home is great for our wellbeing, how about having a pet at work?
According to a recent study of 1006 employees and 200 HR decision makers in the USA, 90% of HR decision makers at pet-friendly companies say that both employees and executives view the policies positively, citing improved morale, reduced stress, greater company loyalty and improved work relationships among a number of benefits.
CANSTAR sought some anecdotal advice from Dr Bronwen Slack, PETstock Vet, on what to think about if creating a pet-friendly workplace.
"Pets have been known to reduce stress, loneliness, depression and anxiety. They also have a calming influence on groups of people," said Dr Slack.
"Having a pet in the workplace can encourage people to be more relaxed, more sociable and more accepting of others."
When it comes to what the pets get out of it, Dr Slack points out that a workplace pet often enjoys more attention and mental stimulation than a pet who stays at home during office hours as there are simply more hands available for playtime and cuddles! She points out that it is important to ensure that the pet's health and wellness needs are still being met throughout the day.
Office rules
Having clear rules in place helps smooth most situations – including extra office members. Dr Slack provides the following tips for both owners and the workplace:
Make sure that your pet is Microchipped and the registration is kept up to date
Make sure your pet has clear identification, preferably a collar with an ID tag that has their name, address and phone number clearly visible
Make use of warning sign for visitors who may be allergic to or fearful of cats or dogs
Do not feed the pet any human food, leftovers or tidbits as this can cause them to become ill
Ensure time is set aside to cater to the pet's needs throughout the day: vet visits, baths, walks, topping up food and water, cleaning toilet areas, brushing, worming and flea treatments
Just as workplaces provide kitchen and bathroom facilities for their staff, the needs of any workplace pets also need to be catered for. In terms of workplace supplies, some common needs include:
CATS:
Access to premium quality food and clean drinking water
Two clean litter trays in different rooms in case the cat is spooked by activity in one room they can go to the other.
Their own bed and a quiet, dark place to go to rest if they feel stressed or overstimulated
A large carry cage for cats so that they can be easily transported
DOGS:
Access to premium quality food and clean drinking water
Access to an outdoor area for toileting
Their own bed and a quiet, dark place to go to rest if they feel stressed or overstimulated
A leash and collar or harness for walking
Don't forget pet insurance for your dog or cat work buddy!
"Office dog creates a fun, positive atmosphere"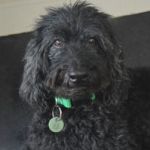 One business that is very happy to be pet friendly is Melbourne-based wholesale fashion business, Things Terrific that has been a second home to the owner's spoodle, Toby, for almost 13 years. Toby also features on their social media pages.
"The number one benefit (of an office dog) would be staff morale," said Things Terrific account manager, Dani Rossiter.
"Having a dog in the office promotes a fun positive atmosphere and if you are having a bad day there is no better pick-me-up than a big cuddle on the floor with your dog! The second major benefit is regarding health. Dogs need regular exercise so instead of driving to local businesses such as the supermarket or post office we walk the dog so he gets a walk and so do we. This also helps with productivity as a walk outside of the office helps keep the mind clear, sharp and active."
Dani suggests that fresh water, a bed so that the animal has its own little territory, and some toys to chew and play with are a must. The toys are particularly useful to keep pets occupied while you're busy.
"We also have a sectioned off area of the office where we can put Toby if we have a person who comes into work who does not like or is allergic to dogs," she said.