Should you take your pet to work? There are pros and cons. Dr Karen Davies of Direct Pet Services explains why a pet can be good for business.
Would you like to take your pet to work? There could be good economic reasons for doing so. According to a recent study of 1006 employees and 200 HR decision makers in the USA by Banfield Pet Hospital, a pet can make a terrific colleague.  Overwhelmingly, responses indicated that pet-friendly workplaces are viewed as highly positive, boosting morale, contributing to talent retention and providing employers with a competitive edge in the recruitment process.
On the talent-retention side, the survey found that pet-friendly companies were more likely to retain talent, with 82 percent of employees and 91 percent of HR decision makers saying that they felt a greater sense of loyalty to employers as a result of pet-friendly workplace policies. At companies without a pet-friendly workplace policy, more than half of employees and nearly two-thirds of HR decision makers say that they would be more likely to continue working for their company if it were to implement a pet-friendly workplace policy.
Canstar spoke with Dr Karen Davies, founder and veterinarian with Direct Vet Services, for a professional view on the pros and cons of making every day bring your pet to work day.
From a purely business point of view, Dr Davies said that bosses need to understand the benefits pets can bring to a business.
"Productivity, marketing (people love our pictures on Facebook), staff loyalty,  perceived client loyalty (clients that see pets in the workplace immediately assume the business is more caring), HR and more," she said.
"Birds, dogs, cats even fish are great workplace assets. In fact we have clients coming in to see our pets and they get most disappointed when staff are on a rostered day off because their pet is also on a rostered day off."
Dr Davies points out, though, that these benefits assume that both the pet and staff are well behaved.
"A downside may arise when staff with a less than ideal work ethic use the pet to waste time and resources, and they have the potential to exist in every workplace," she said.
"Additionally, where one staff member's pet is not appropriately behaved then this can also be perceived as inequitable and can cause some disharmony, in the event that the offending pet is not welcomed."
The experience at Direct Vet Services, though, has been overwhelmingly positive. It has up to three staff dogs at the clinic most days to provide a permanent reception and welcoming committee for clients.
"In our case the "resident dogs" help to calm patients that are in unfamiliar surrounds and often for unpleasant reasons, which makes their stay a little easier," said Dr Davies.
"They will also pull the occasional naughty ones back into line with a  "that's not how we do it here" look, which can be funny at times. We also have a resident Eclectus Parrot that greets new arrivals and entertains the crowd if we are running a little behind. She does love a good chat although I would not recommend putting your fingers in her cage."
"Pets relax everyone"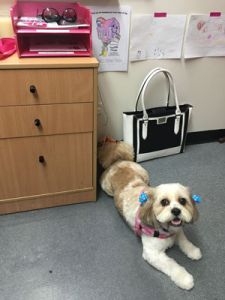 One business that is very happy to be pet friendly is real estate sales and property management office, RE/MAX United Vision. Real Estate Agent, Tracey Ashley, is one of several staff that brings their dogs to work.
"I bring my dog Tiffany in all the time," she said.
"The office became pet-friendly about eight years ago when the owner's daughter acquitted two young puppies and they would come to work with her. Everyone loves it when workers bring their dogs in. There is less stress and people seem happier."
Ms Ashley said that it is important to be responsible for your own pet, and to ensure that your pet cannot bother any staff that may not be as keen on canine (or feline) colleagues.
"You do have to keep your pet under control at all times and keep your pet away from other workers that may not like pets. It does relax most people though as they all give Tiffany a pat; it also gets clients talking," she said.