When buying a used car, you need to make sure the paperwork is in order. Canstar looks at the documentation you need to take care of before driving away.
You've found your perfect set of wheels, the price is within your budget, and the keys are ready to be handed over. But do you know what you need to do prior to driving it home? In this story we cover the documents required to drive your car home, where you can do the required paperwork, and what you should look for before signing on the dotted line.
What do I need to buy a secondhand car?
A legal NZ driver's licence, if you're going to be driving it home

The licence plate number of the car you've bought

A credit/debit card to pay the ownership transfer fee
What is the basic process of buying a used car?
The process of buying a used car is relatively simple. Essentially, it involves just handing over the money and transferring the vehicle into your name. But as with all purchases, it's buyer beware. So to ensure that your deal goes smoothly and you're not left holding a lemon, it pays to get all your paperwork in order. To help you onto the open road, we've compiled this clear check-list: 
1. Check out the vehicle's ratings
Do some research into the model of car you want to purchase. You can find a lot of this information online. Have a look at the car's safety rating and its fuel economy rating. Read some user reviews and check out the cost of repairs and servicing. Classic and vintage cars, and smaller overseas marques, might look cool, but they can be a lot more expensive and troublesome to maintain.  
2. Check the vehicle isn't stolen or has money owing on it
If you buy a car that has outstanding finance on it, then the lender is within their rights to repossess the vehicle from you. The onus is on you, the purchaser, to do all the relevant checks. It's also a good idea to make sure the car you want to buy isn't stolen, which is another nightmare scenario.
Fortunately, it's a simple process to check both online. You can find out if the vehicle is recorded stolen by searching on the NZ Police website. To discover whether there is any outstanding loans or finance on a car is just as simple. Register for the government's Personal Property Securities Register site and for just a couple of dollars you can get a report outlining any money owing.
3. Check the WOF
Any vehicle sold in New Zealand by a dealer must have a valid Warrant of Fitness that is less than one month old. A private seller, however, can sell a vehicle without a warrant, provided the car is clearly identified for sale "as is, where is". If you are happy with that, you should give the seller a written undertaking that the vehicle won't be used on the road, except for taking it for repair or a new WOF.
Remember a WOF isn't the same as a pre-sale inspection, it's just an indication of whether the car is legal to be driven on the road. If you've any doubts about the car you're buying, for around $150-$200 a pre-inspection by a trusted source such as the AA can give you complete peace of mind that the car won't break down the minute you hand over your money.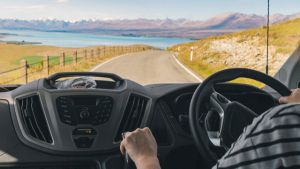 What if the WOF has expired or is more than one month old?
The New Zealand Transport Agency (NZTA) reminds buyers that they can insist that a car's warrant of fitness (WOF) be less than one month old. This helps protect you if faults have developed in the vehicle since its last WOF check. If you don't insist on this, ideally you should give the seller written confirmation that you accept that the WOF is older than one month, just so everybody knows where they stand.
What about the vehicle's registration?
Check the car has a current registration. This is the road tax displayed on the car's windscreen. If it's expired, a car's registration can be renewed at any PostShop, or online here. It's your responsibility to do this once you've purchased the vehicle.
4. Check the consumer information notice (CIN)
If you're buying from a dealer, they must complete and attach a CIN card to every vehicle they have displayed for sale. It provides important information about the vehicle. The dealer must provide you with a copy of the CIN. It gives you basic and necessary details about your new car. They'll ask you to sign it when you buy a used vehicle. Private car sales don't need a CIN.

5. Change of ownership
Both the buyer and seller must fill out "change of ownership" forms. These are available from an NZTA agent (for example, a PostShop), or you can do it easily online here. You'll be charged a fee of $9 to do this. You just need to put in your driver's licence number and the vehicle's plate number. This is very important to do, as it ensures any future fees and fines turn up in the right letterbox!
6. Get insured
It's not mandatory to get car insurance in New Zealand, but we strongly recommend you get insured before you start driving your new car. Even if you're a great driver, not everyone else is. Canstar compares a number of car insurance providers, so you can make a choice that's right for your situation and cover needs:
---
Compare car insurance with Canstar
Looking for great car insurance? Each year, we release our car insurance awards, covering winners for Insurer of the Year, Outstanding Value, and Most Satisfied Customers. As part of our award results, you can view our Outstanding Value Star Ratings for different age groups, to help you find the best car insurance for you and your family. You can view our 5-Star winners for drivers 30-49 below, or click here to view our car insurance Star Ratings, in full.
| | | | |
| --- | --- | --- | --- |
| Star Rating | Company | Product | Further Information |
| | | Everyday Plus | |
| | | Comprehensive | |
| | | Comprehensive | |
See here for our ratings methodology. The table above is an abridged version of our research. For the full results of our 2021 Car Insurance Ratings and Award, click here.
---
Financing your car
If you're not a cash buyer, then you're not alone: 80% of car buyers purchase their cars on finance. Shopping around for a new car is no doubt more thrilling than picking a personal loan. But there can be some serious savings available, just by comparing the personal loan market.
To help you make the right decision, Canstar has a simple tool that allows you to compare providers and their rates and fees. For more information, just click on the link below. Happy highways!
Compare personal loans with Canstar
Enjoy reading this article?
You can like us on Facebook and get social, or sign up to receive more news like this straight to your inbox.
By subscribing you agree to the Canstar Privacy Policy