The Clean Car Discount has helped Kiwis save thousands on new cars. But as of April 1, 2022, the scheme switched approach. So what is the Clean Car Discount and what new changes should you know about?
Electric cars are an increasing presence on our roads. Growing climate concerns and rising fuel prices has driven Kiwis to alternative vehicles in record numbers over the past year.
But the overall market share remains minuscule. Largely because EVs are still simply too expensive for many.
The most popular EV in the country, the Tesla Model 3, starts from $72,400 (thanks to a few recent price hikes) while the cheapest option, the MG ZS EV, starts at $49,990. Fifty thousand dollars isn't exactly cheap for a new car and, to make things worse, the MG SZ EV isn't just the cheapest EV, it's the cheapest by far. And that somewhat skews the EV market's price spread.
The second cheapest EV is a Mini, which starts at $60,400!
To help make electric cars more affordable, the government introduced the Clean Car Discount, to help lower the entry point for EVs. And, so far, it's working. Since the discount came into effect, EV sales have skyrocketed. So what is the Clean Car Discount, and what changes have been made that you should know about?
---
Car Insurance | Most Satisfied Customers
Looking for the best car insurance? The grid below reveals some of the best New Zealand car insurance providers as voted by their customers, including State, the five-star winner of our prestigious award for Most Satisfied Customers | Car Insurance.
---
Insurance Brand

Overall Satisfaction

Value for Money

Cost

More Info
---
---
---
See here for our ratings methodology. The table above is an abridged version of our research. For the full results of our 2021 Most Satisfied Car Insurance Ratings and Award, click here.
---
What is the Clean Car Discount?
The Clean Car Discount is a government initiative introduced in July 2021. Initially, it provided fixed cashback rebates for consumers that purchased electric (BEV) and hybrid (PHEV) vehicles. Those rebates were: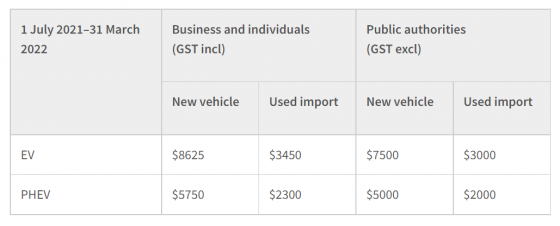 As electric and hybrid vehicles are typically costlier than internal combustion engine (ICE) vehicles, the initiative was designed to encourage Kiwis to opt for carbon-friendly vehicles by making them more affordable.
And the sales data suggest it's working: 2021 was the biggest year on record for EV and PHEV sales overall. But if you look at the data pre- and post-rebate, the difference is clear.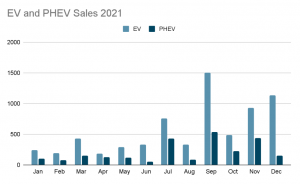 From January to June (pre-rebate) there were 1670 new EV and 629 PHEV sales. From July to December, that skyrocketed to 5147 EVs and 1864 PHEVs.
How has the Clean Car Discount changed?
As of April 1, 2022, updates to the Clean Car Discount scheme have changed the way it's implemented. Notably:
Fixed rebate amounts have moved to a sliding scale based on the emission levels of a vehicle
All low-emission vehicles, including ICE vehicles, can qualify for a rebate
In addition to rebates for low-emission vehicles, fees for high-emission vehicles have been added
Sliding scale
Previously there was a fixed-rate rebate for vehicles. For example, all second-hand hybrids would qualify for the same rebate ($2300). This has now switched to a sliding scale. The lower the emissions, the larger the rebate.
As a result, electric cars should still qualify for the max rebate ($8625 for new vehicles) as they are zero-emission. But hybrid vehicles will qualify for differing amounts based on their emissions. The more environmentally friendly the vehicle, the larger the rebate.
ICE vehicles
Additionally, while the Clean Car Discount was introduced for BEVs and PHEVs, some ICE vehicles may now qualify for a rebate. So long as a vehicle falls below the zero band (the level of emissions allowed before any rebate or fee is applied) it earns a rebate.
However, ICE vehicles are unlikely to earn significant rebates as they have higher emissions than hybrid and electric vehicles. For example, according to RightCar, the petrol Volkswagen Polo could qualify for a rebate of $439*. Whereas a BEV can earn a rebate of up to $8625.
*Indicative only, not an actual quote.
Fees
As a part of the changes, a feebate is now applied to high emission vehicles in the same way as the rebate. Any vehicle that falls above the zero band will incur a fee, the higher a vehicle's emissions, the larger the fee.
This fee is applied in the form of added tax, up to a total of $5175.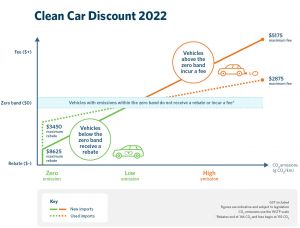 What else do I need to know?
Aside from what's mentioned above, to qualify for the Clean Car Discount your vehicle must:
Cost less than $80,000 including GST and on-road costs
Be new or new to New Zealand (used-import) registered for the first time in New Zealand from April 1, 2022.
Have a safety rating of 3-stars or more on the RightCar website at the time of registration
Do note that if your vehicle was registered prior to April 1, but you have not yet claimed your rebate, you may still be able to do so. Any rebates will be according to the old rules, prior to the April changes. You can get more information here.
---
Compare car loans with Canstar
The table below displays some of the unsecured personal loan products available on Canstar's database for a three-year loan of $10,000 in Auckland (some may have links to lenders' websites). The products are sorted by Star Rating (highest to lowest) followed by company name (alphabetical). Use Canstar's personal loan comparison selector to view a wider range of products on Canstar's database. Canstar may earn a fee for referrals.
Compare car loans with Canstar
---
About the author of this page
This report was written by Canstar Content Producer, Andrew Broadley. Andrew is an experienced writer with a wide range of industry experience. Starting out, he cut his teeth working as a writer for print and online magazines, and he has worked in both journalism and editorial roles. His content has covered lifestyle and culture, marketing and, more recently, finance for Canstar.
---
Enjoy reading this article?
You can like us on Facebook and get social, or sign up to receive more news like this straight to your inbox.
By subscribing you agree to the Canstar Privacy Policy