Why is petrol so expensive? Around the world, petrol prices are spiking. In the US, gasoline prices in some states have hit US$5 per gallon, which is about NZ$2.10 per litre. That's up 58% from an average of US$3.16 per gallon a year ago.
In Australia, in NSW, the price of regular 91 petrol is up 42%, from around AU$1.51 last July to AU$2.14. And that's despite the federal government cutting petrol taxes. From April 1, 2022, the Aussie government cut its excise on fuel by half, from AU44.2c per litre to AU22.1c, for six months, to help alleviate pain at the pump.
Here, too, the government cut fuel taxes, from April 1, for three months. Currently the amount of tax in the price of a litre of petrol:
45c – National Land Transport Fund (cut from 70c until end of June)
6c – ACC Motor Vehicle Account
0.66c  – Local Authorities Fuel Tax
0.6c- Petroleum or Engine Fuels Monitoring Levy
On top of this you have:
GST at 15%
10c extra in Tamaki Makaurau for the Auckland Regional Fuel Tax
This means that for most Kiwis, the amount of tax on a litre of gas is now around 60c, or 72c in Auckland. But even with the 25c tax cut, the average price of petrol has still gone up. So why is petrol so expensive at the moment? And are Kiwi motorists getting ripped off at the pump?
Why Is Petrol So Expensive? NZ petrol price rises
The table below shows how the main port price has increased in NZ over the past 12 months. The main port price is a weekly average of retail prices in: Auckland, Hamilton, Wellington, and Christchurch.
Petrol
Cost
per litre
July 2021
Cost
per litre
June 2022
Price
increase
91
$2.37
$3.22
36%
95
$2.51
$3.39
35%
As you can see, while prices have increased, our petrol price inflation hasn't been as bad as in the US (58%) or in NSW (42%).
And we can't blame the petrol importers for rorting Kiwi consumers. In fact, importer margins have dropped over the past year:
Petrol
Importer margin
per litre
July 2021
Importer margin
per litre
June 2022
Margin
difference
91
25c
23c
-8%
95
38.5c
35.5c
-8%
Why Is Petrol So Expensive? Importer Costs
The real culprit behind the price spike is the cost of importing the fuel. As the Ministry of Business, Innovation & Employment (MBIE) defines on its website, the cost of importing fuel to New Zealand includes:
The cost of purchasing the fuel in Singapore
Shipping it to New Zealand
Insurance and losses
Wharfage and handling
And, as you can see, the rise in the cost of importing fuel has been astronomical:
Petrol
Importer cost
per litre
July 2021
Importer cost
per litre
June 2022
Margin
difference
91
78c
$1.69
117%
95
80c
$1.72
115%
You can see clearly the balance of taxes, margins and costs in this colourful MBIE graph: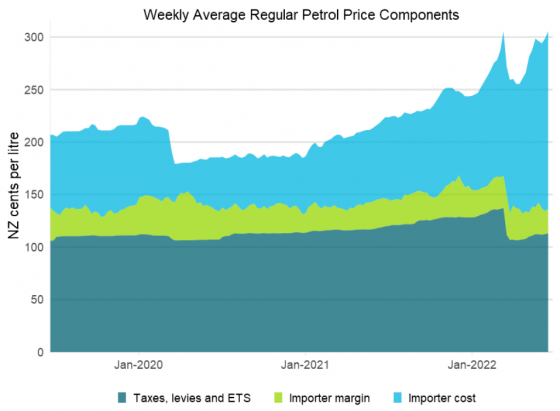 So Why Is Petrol So Expensive?
Basically, petrol is expensive at the moment because of world events that we, as consumers, can't do much about. In the USA, President Biden has been blaming the Putin Tax for high prices at the pump. And, yes, the war in Ukraine is having an effect on global oil prices, but it's not all Vladamir's fault. The main reason is supply and demand.
Currently, a post pandemic world is rebounding and the demand for petroleum products is rising faster than oil can be pumped out of the ground and processed. In its latest Oil Market Report, the International Energy Agency says that while oil markets are set to rebalance by the end of this year, the situation could be short-lived.
For although refining capacity is expanding, and non OPEC+ countries are predicted to lead an increase in oil production in 2023, world demand is forecast to hit new highs next year, lead by a resurgent China.
The agency says that: "Global oil supply may struggle to keep pace with demand next year, as tighter sanctions force Russia to shut in more wells and a number of producers bump up against capacity constraints."
It adds that shortages in certain petroleum products may well persist due to uneven rates of demand growth and limits in the refining system, and that diesel and kerosene supplies remain of particular concern. And this, in turn, will lead to higher prices and yet more pain at the pump in the middle of next year.
---
Compare Car Insurance With Canstar
Looking for great value car insurance? The grid below shows some of the 5-Star winners in the +50-year-old driver profile from our latest car insurance awards and ratings.
NZ +50-year-old Driver
See here for our ratings methodology. The table above is an abridged version of our research. For the full results of our latest Car Insurance Ratings and Award, click here.
---
About the author of this page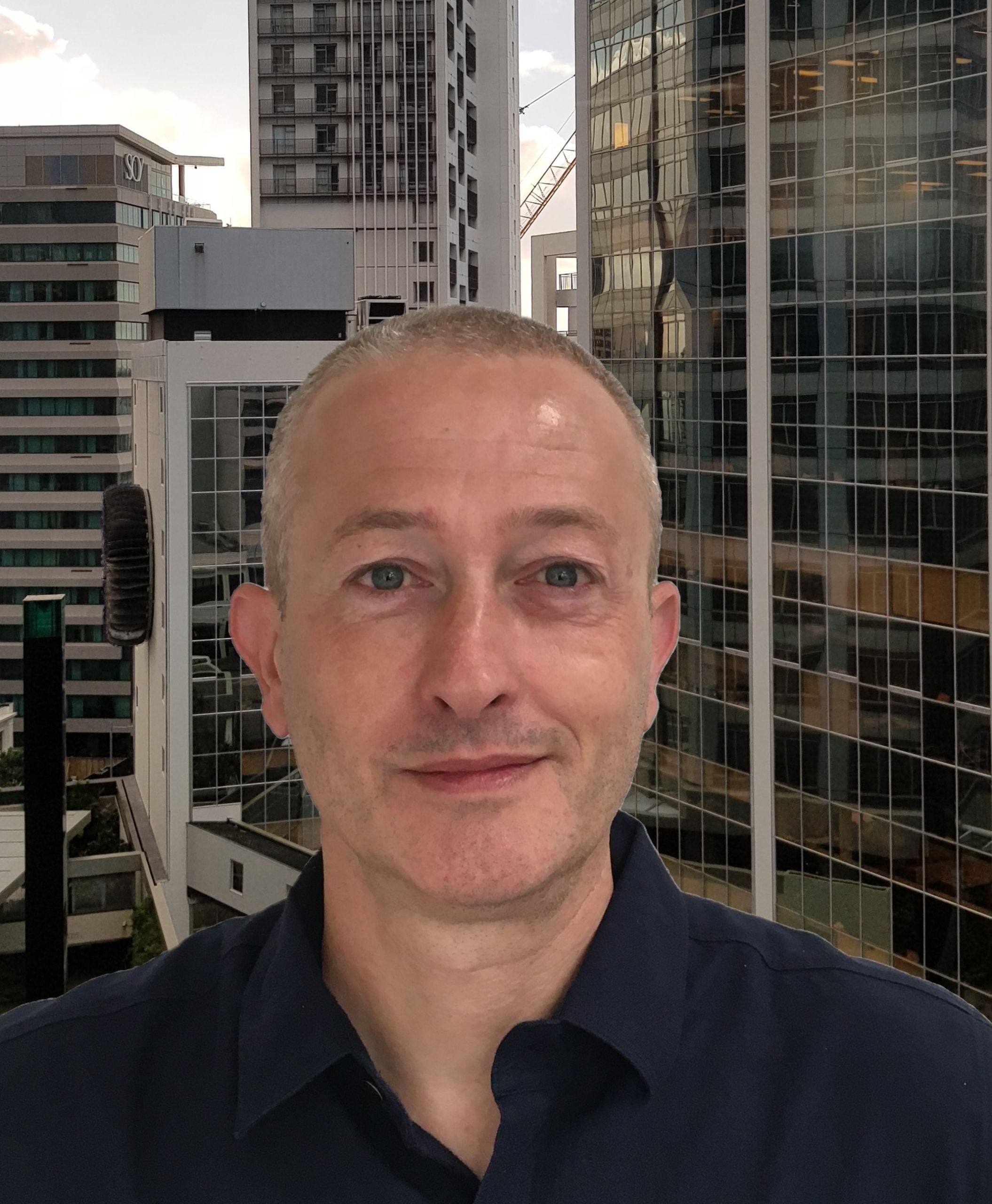 This report was written by Canstar's Editor, Bruce Pitchers. Bruce began his career writing about pop culture, and spent a decade in sports journalism. More recently, he's applied his editing and writing skills to the world of finance and property. Prior to Canstar, he worked as a freelancer, including for The Australian Financial Review, the NZ Financial Markets Authority, and for real estate companies on both sides of the Tasman.
---
Enjoy reading this article?
Sign up to receive more news like this straight to your inbox.
By subscribing you agree to the Canstar Privacy Policy