Canstar researches and rates 4 travel money cards, revealing the bang that travellers can get for their buck
How to put more spending money in your pocket
Huge surge in post-Brexit currency buying
How Travel Money Cards compare
Kiwis love to travel, taking more than 200,000 short-term overseas trips per month. Travel money cards, which give travellers the ability to lock in an exchange rate before they leave, can go a long way to helping keep holiday costs under control.
"A travel money card is a debit card with chip and PIN protection that enables you to pre-load a number of foreign currencies before you travel," said Canstar General Manager – New Zealand, Jose George.
"You can lock in a currency as far in advance as you like and interestingly, Qantas advised that in the weekend following the recent Brexit announcement, it saw a 760 percent increase in GBP (British currency) loads compared to the average of GBP uploads over the previous three weekends. That indicates plenty of opportunistic buying by Kiwi travellers."
Travel Money Cards also have the advantage of not being linked to your other bank accounts, which can be an easy and secure way to carry multiple currencies in your wallet.
Be aware of the exchange rates
For the most recent Travel Money Cards report, Canstar researchers captured four weeks of daily exchange rate data from each of the institutions rated and then calculated the average for each institution. For the purpose of an example, though, below are the exchange rates that were offered across four popular currencies on 15th July:
Travel Money Card
AUD
US Dollar
British Pound
Euros
Qantas Cash MasterCard
0.9095
0.6971
0.5203
0.6248
Air New Zealand OneSmart
0.9054
0.6931
0.5156
0.6226
Kiwibank Loaded for Travel
0.9193
0.7035
0.5163
0.6243
MasterCard Cash Passport
0.9090
0.6975
0.5152
0.6180
Source: Providers' websites. Exchange rates are current as at 15 July 2016.
"The exchange rate difference may not sound like much, but it does add up. Based on the exchange rates in the table above, someone buying $6,000 worth of Euros, for example, could end up with anywhere between €3,708 and €3,748 Euros," said Mr George.
"That's money for jam."
Which card offers outstanding value?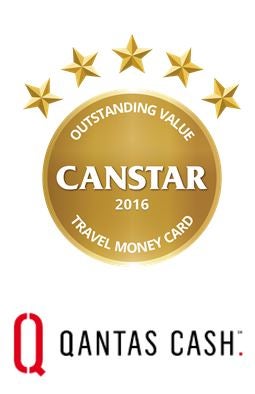 Canstar has analysed the costs and features of 4 travel money cards, with Qantas Cash taking the 2016 Award for Outstanding Value – Travel Money Card.
The Qantas Cash card is a pre-paid, debit MasterCard. It can be used to pay for goods and services in person or online, and to make withdrawals at millions of MasterCard ATMs around the world.
You can load up to 9 foreign currencies on the Qantas Cash Card – NZD, AUD, CAD, EUR, GBP, HKD, JPY, SGD, and USD. You can lock in exchange rates on up to 8 currencies before you fly.
You do need to be an existing Qantas Frequent Flyer member in order to attain a Qantas Cash card; however, you can apply for the card immediately after signing up to this rewards program. Because the Qantas Cash card is connected to your Qantas Frequent Flyer membership, you earn Qantas Points on all eligible purchases made at home or overseas.
"As well as a competitive exchange rate, the Qantas Cash card has very few fees; that's a win/win for travellers," said CANSTAR's Jose George (see fee summary table on following page).
"And of course there's the prospect of earning rewards points, with many consumers loving the concept of rewards. Overall Qantas offers a terrific package for their customers."
Responding to the Award, Fiona Enh, Head of Qantas Cash, said the Card has been used in 178 countries across the world, with the ability to lock in exchange rates, control, safety and security some of the most important features that their customers look for.
And then, of course, there are rewards points.
"You can use Qantas cash as you would any normal credit or debit card overseas, whilst earning 1 Qantas point for every $1 of spend," she said.
Canstar congratulates Qantas Cash Card on its win.
How the cards we rated compare on fees
The table below summarises the fees and charges you can expect to see on the 4 travel money cards rated in New Zealand. To find out what these fees mean and how to avoid paying some of them, read on below.
Air New Zealand
OneSmart
Kiwibank
Loaded for Travel
MasterCard
Cash Passport
QANTAS
Qantas Cash
24/7 global emergency
assistance fee
Nil
Nil
Nil
Nil
Currency conversion fee
2.50%
2.50%
5.95%
2.50%
Initial card loading fee
Nil
$12
Greater of 1.10% or $15
Nil
Online reload fees
Nil
1.00%
$2
Nil
Third party network
reload fee
N/A
N/A
1.10%
Nil
BPAY reload fees
Nil
1.00%
1.00%
Nil
Merchant (POS) surcharge
Nil
Nil
Nil
Nil
Cash over the counter fee
N/A
$6
$10
Nil
Negative balance or
insufficient funds fee
Nil
Nil
$20
Nil
Monthly fee
$1
Nil
Nil
Nil
Monthly inactivity fee
Nil
Nil
$4
Nil
Replacement card fee
$10
$10
Nil
Nil
Secondary card fee
$10
Nil
Nil
N/A
(no secondary card)
Fee for card closure
Nil
Nil
$10
Nil
Fee for refunding
card balance
$10
$15
$10
Nil
Source: canstar.co.nz database as at July 2016.
Canstar's travel money cards report  is an invaluable starting point for savvy travellers. The report and results are available for consumers at www.canstar.co.nz
ENDS
For further information, contact:
Brenda Newth, SenateSHJ +021 655 534
About Canstar:
Canstar provides Australia and New Zealand's only fully interactive online research service in retail and business finance.
Founded in 1992, Canstar Pty Limited (formerly CANNEX) is Australia and New Zealand's premier researcher of retail finance information for over 250 institutions such as Banks, Building Societies, Credit Unions, Finance Companies, Brokers, Mortgage Originators, Life Companies and finance related Internet Portals.
Canstar customers use the extensive database for competitor analysis as well as a means of disseminating their product range.   Canstar also distributes this information to print and electronic media for publication and to Agents, Accountants, Brokers and Internet Portals for use in advising their clients.
What are the Canstar star ratings?
Canstar researches, compares and rates the suite of banking products listed below. Results are freely available to consumers who use the star ratings as a guide to product excellence. The use of similar star ratings logos also builds consumer recognition of quality products across all categories.  Please access the Canstar website at www.canstar.co.nz if you would like to view the latest star ratings reports of interest.
Business deposits
Cash PIE
Credit cards
Credit card rewards
Home loans
KiwiSaver
Online banking
Personal loans
Savings accounts
Transaction accounts
Term deposits
COPYRIGHT
© Canstar New Zealand Limited (3225469), 2008-2013. The recipient must not reproduce or transmit to third parties the whole or any part of this work, whether attributed to Canstar or not, unless with prior written permission from Canstar, which if provided, may be provided on conditions.
DISCLAIMER
To the extent that any Canstar data, ratings or commentary constitutes general advice, this advice has been prepared by Canstar New Zealand Limited (3225469) FSP 200146 and does not take into account your individual investment objectives, financial circumstances or needs.  Information provided does not constitute financial, taxation or other professional advice and should not be relied upon as such.  Canstar recommends that, before you make any financial decision, you seek professional advice from a suitably qualified adviser.  A Product Disclosure Statement relating to the product should also be obtained and considered before making any decision about whether to acquire the product. Canstar acknowledges that past performance is not a reliable indicator of future performance.