Canstar releases annual Bank of the Year – First Home Buyers Award report, researching 39 home loans for first home buyers across 9 institutions.
Borrowers with 20% deposit can lock in lower home loan rates, equates to a difference of $43 per month on a $400,000 loan (see below)
Borrowers with a small deposit can potentially save thousands by choosing a flat low equity fee
Kiwibank wins Bank of the Year Award for 6th year in a row
Newly-imposed restrictions on overseas buyers by some institutions, a tightening on investor rules, a loosening on Welcome Home Loan rules and lower interest rates are just some of the factors that could help first-time property buyers at the moment – although the market is still challenging.
"Buying a property is a perfect storm of emotion, frustration, legal complexity and long term commitment," said Canstar General Manager – New Zealand, Jose George.
"Add to that the amount of debt that many first home buyers are facing in order to get a foot on the property ladder and the prospect is quite overwhelming. We believe that financial institutions have a significant role to play in educating and assisting first home buyers with the many decisions that buying a property entails, and that Canstar has a significant role to play in helping buyers make cost-effective loan decisions."
Each year Canstar researches and rates the financial products and services on offer for New Zealand's first home buyer market. The First Home Buyer Award is awarded to the financial institution that provides the strongest combination of products and services across the first home market in New Zealand. The award aims to give recognition to institutions offering outstanding value home loans as well as additional services that benefit first home buyers in making an informed decision when purchasing a home for a first time.
What loan rate can buyers expect?
When it comes to locking in a fixed home loan rate, buyers who can scrape together a 20 percent deposit could reduce their average monthly home loan repayments by around $43 per month, based on a $400,000 home loan and a 2 year fixed term.
"Canstar has looked at average mortgage interest rates at various loan to value (LVR) levels and not surprisingly having a 20 percent or more deposit enables you to lock in a lower fixed-term interest rate," said Mr George.
"This impacts repayments; based on the difference in average rate on a 2 year fixed loan, for example, borrowers with a $400,000 debt would be paying an additional $43 per month if they are unable to secure the lower rates offered to those with a bigger deposit."
Loan type
Average % at 90% LVR
Average % at 80% LVR
Difference
Difference in monthly repayment on $400,000 loan
Floating
5.60%
5.60%
0.00%
$0
1 year fixed
4.69%
4.55%
0.14%
$32
2 years fixed
4.74%
4.55%
0.19%
$43
3 years fixed
4.89%
4.83%
0.06%
$14
Source: canstar.co.nz. Based on products assessed for Canstar 2016 First Home Buyer report
While the process of applying for a first –time home loan can be confusing, Mr George urges would-be buyers to shop around.
"Your home loan may well be the biggest debt you ever have and small differences in interest rate can make a significant difference in the monthly and overall cost of that debt," he said.
"Using the 2 year fixed rate example, while the average interest rate with a ten percent deposit is 4.74%, there are 2 year fixed rates on our database as low as 4.15% with that same deposit amount. So first homebuyers should carefully compare their options."
A flat LMI fee can save significant $$
First home buyers without the magic 20% deposit can also potentially save money by opting for a fixed Lenders Mortgage Insirance (LMI) fee rather than opting for a product that charges this cost as an additional margin on a home loan interest rate.
Canstar has calculated that if financing through a lender that charges an interest rate premium for high LVR loans, a borrower taking out a 2 year fixed rate loan for $400k at a market rate of 4.75%, and who is borrowing 90% of their house value, could expect to pay more than $4,200 in additional repayments over the first two years of their loan. This is based on a typical interest rate premium charged by some lenders.
In contrast, they would pay $2,000 as a one-off fee from Canstar Bank of the Year – First Home Buyers award-winner Kiwibank.
Estimated customer cost for $400k loan over 2 years @4.75% (standard rates)
Loan to value ratio (LVR) tier
Kiwibank
Average of institutions charging as a margin
One off Fee
Interest premium
80.01 – 85.00%
$1,000
$1,950
85.01 – 90.00%
$2,000
$4,221
90.01 – 95.00%
$3,200
$5,663
95.00%+
$3,200
$6,536
 Source: canstar.co.nz *Based on additional P&I repayments made over a 24 month period. 24 months was chosen as a reference.  Calculations are indicative only.
Kiwibank: Bank of the Year – First Home Buyers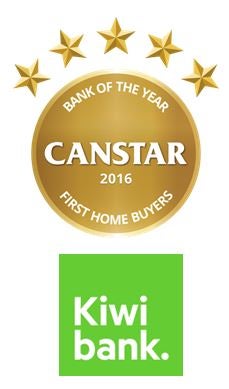 First Home Buyers need more than just a sharp interest rate; Canstar's Bank of the Year – First Home Buyer Award recognises the institution that is leading the way when it comes to both products and services for first time buyers.
Kiwibank has now won this Canstar award for an amazing six years in a row, once again proving this year that they provide a strong proposition for New Zealand home buyers.
"Buying property for the first time can be a confusing and complex process. It is vital that borrowers find a banking partner who can provide support not just in terms of a competitive product but also in terms of education, information and ongoing customer service," said Mr George.
"It has been a big 12 months for home buyers in general," observes Kiwibank Head of Lending, Kerry Boielle.
"It is still a tough market but various recent changes are opening the door for some first time buyers to get on the ladder who would otherwise not have been able to do so. I can't speak for all the banks but Kiwibank certainly feels a responsibility to help First Home Buyers."
Pricing
Kiwibank offers one of the lowest interest rates in the market and is also one of the few institutions that charges the customer a one-off fee (LMI Fee) if they borrow above 80% LVR, rather than adding a risk margin to the interest rate.
The products on offer also combine sharp pricing with superior features. These include first home buyer-specific features such as enabling family to act as a guarantor, home loan pre-approval for 90 days and a personalised home loan pack for first home buyers.
Institutional Features
Canstar's Award also assesses the service provided to first home buyers and again, Kiwibank ticks all the boxes.
Among other things, Kiwibank offer the following:
Guide to buying at auction
Property buying checklists
Step-by-step Guide to buying a property
Specific property research tools
Explanation of additional home purchasing costs and home loan features
Online troubleshooting capability
It also offers several calculators available on its website for customers to use to work out their borrowing position. Calculators include Borrowing Power Calculator, Investment Budget Calculator, Loan Offset Calculator, and Savings Calculator.
"Conditions are still tough for first home buyers and there are so many moving pieces for buyers to consider; Kiwibank's comprehensive educational resources help first home buyers navigate the often complex maze of buying a home," said Mr George.
"In addition to online resources, Kiwibank offer plenty of face-to face support, via both mobile lenders and branches. We congratulate Kiwibank on its six-years-in-a-row achievement."
The Canstar First Home Buyers report can be downloaded here.
ENDS
For further information, contact:
Brenda Newth, SenateSHJ +021 655 534
About Canstar:
Canstar provides Australia and New Zealand's only fully interactive online research service in retail and business finance.
Founded in 1992, Canstar Pty Limited (formerly CANNEX) is Australia and New Zealand's premier researcher of retail finance information for over 250 institutions such as Banks, Building Societies, Credit Unions, Finance Companies, Brokers, Mortgage Originators, Life Companies and finance related Internet Portals.
Canstar customers use the extensive database for competitor analysis as well as a means of disseminating their product range.   Canstar also distributes this information to print and electronic media for publication and to Agents, Accountants, Brokers and Internet Portals for use in advising their clients.
What are the Canstar star ratings?

Canstar researches, compares and rates the suite of banking products listed below. Results are freely available to consumers who use the star ratings as a guide to product excellence. The use of similar star ratings logos also builds consumer recognition of quality products across all categories.  Please access the Canstar website at www.canstar.co.nz if you would like to view the latest star ratings reports of interest.
Business deposits
Cash PIE
Credit cards
Credit card rewards
Home loans
KiwiSaver
Online banking
Personal loans
Savings accounts
Transaction accounts
Term deposits
COPYRIGHT
© Canstar New Zealand Limited (3225469), 2008-2013. The recipient must not reproduce or transmit to third parties the whole or any part of this work, whether attributed to Canstar  or not, unless with prior written permission from Canstar, which if provided, may be provided on conditions.
DISCLAIMER
To the extent that any Canstar data, ratings or commentary constitutes general advice, this advice has been prepared by Canstar New Zealand Limited (3225469) FSP 200146 and does not take into account your individual investment objectives, financial circumstances or needs.  Information provided does not constitute financial, taxation or other professional advice and should not be relied upon as such.  Canstar recommends that, before you make any financial decision, you seek professional advice from a suitably qualified adviser.  A Product Disclosure Statement relating to the product should also be obtained and considered before making any decision about whether to acquire the product. Canstar acknowledges that past performance is not a reliable indicator of future performance.