Canstar releases annual savings & everyday banking account ratings
More than one quarter of Kiwis living payday to payday
Only 1 in 10 have changed accounts to save on fees or interest
Average at-call savings account interest rate only 1.43%
A Canstar Blue survey of just over 2,400 New Zealand adults has found that a worrying 27 percent admit to living payday to payday – but only 11 percent have tried to save money on their standard financial products.
Savings account interest rates
"In our current low interest rate environment every extra dollar of interest we earn or every extra dollar that we don't pay out in bank fees is a help," said Canstar General Manager – New Zealand, Jose George.
Currently on the canstar.co.nz database, interest rates on at-call online saver accounts range from 0.05% up to3.00%, and bonus saver account interest rates also range up to 3.00%.
Online Savings Accounts
Institution
Product
Total Rate
Heartland Bank
Direct Call Account
3.00%
Heartland Bank
Savings Optimiser
2.60%
Heartland Bank
Saver
2.50%
NZCU Baywide
Online Saver
2.50%
TSB Bank
Horizon Account
2.10%
TSB Bank
Websaver Account
2.10%

Rates as at the 20/06/2016 on a $25,000 balance. Products on Canstar.co.nz database
Bonus Savings Accounts
Institution
Product
Base Rate
Total Rate
RaboDirect
PremiumSaver
1.00%
3.00%
SBS Bank
Incentive Saver
0.15%
3.00%
ASB Bank
Savings Plus
0.50%
2.90%
The Co-operative Bank
Step Saver
0.25%
2.85%
ANZ
Serious Saver
0.10%
2.75%
BNZ
Rapid Save
0.10%
2.75%
Westpac
Online Bonus Saver
0.05%
2.75%

Rates as at the 20/06/2016 on a $25,000 balance. Products on Canstar.co.nz database. Terms and conditions apply
Everyday banking account fees
For the 27 percent of Kiwis living day to day and without significant savings, the fees charged on everyday banking accounts are a more likely source of potential savings – and if you're paying fees on your savings account by using the account inappropriately, you should stop immediately!
Canstar's research has found the following minimum, maximum and average fees on both at-call savings accounts and transaction accounts:
Transaction Fees on Deposit Accounts: Savings vs. Everyday Banking
Point of Sale
Branch Withdrawal
ATM Withdrawal own network
ATM Withdrawal other network
Internet Transfer
Average
Standard At-Call Savings Accounts
$2.59
$2.26
$2.35
$2.41
$0.29
Everyday Banking Accounts
$0.17
$1.05
$0.20
$1.06
$0.09
Minimum
Standard At-Call Savings Accounts
$1.00
$0.00
$1.00
$1.00
$0.00
Everyday Banking Accounts
$0.00
$0.00
$0.00
$0.45
$0.00
Maximum
Standard At-Call Savings Accounts
$5.00
$5.00
$5.00
$5.00
$5.00
Everyday Banking Accounts
$0.50
$3.00
$0.75
$1.70
$0.45
Source: www.canstar.co.nz. Based on products assessed for Canstar 2016 Star Ratings
"It's obvious from the above figures that everyday banking accounts charge lower fees for making transactions, while savings accounts will charge much higher fees to make the same transactions as a way of deterring you from withdrawing money," said Mr George.
"You should ensure that the account you're using for transactions is indeed set up as an everyday banking account!
"There is also a significant difference in account fees between transaction accounts, so if you are one of the 90 percent that hasn't compared costs of your financial products, now is a good time to do so."
Looking for the best value
The majority of Kiwis surely want the best value from their everyday banking and savings accounts; Caanstar has just released its annual Savings and Everyday Banking Account Star Ratings, analysing 54 savings and everyday banking accounts across 11 financial institutions. The following institutions have achieved a 5 star rating:
Electronic Transactor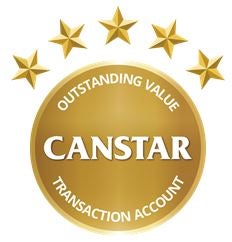 An account that provides full online functionality, ATM access and EFTPOS. Canstar assumes that customers using this account type have no need for branch access. 
Full Service Transactor
This type of account offers ATM access and EFTPOS as well as online functionality, but also provides branch access. Canstar assumes that customers using this account type continue to bank through a branch and via phone
Flexible Saver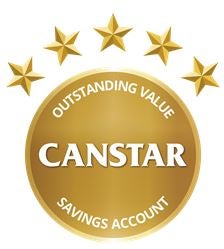 This type of account offers an at-call interest rate with no conditions attached. To be eligible the current base rate must be greater than 0.50% at $25,000.
Heartland bank
NZCU Baywide
Regular Saver
This type of account also offers at-call functionality. Bonus interest is paid if customers achieve certain conditions (for example, a regular monthly deposit with no withdrawals). To be eligible the current total rate must be greater than 0.50% at $10,000.
Heartland Bank
Kiwibank
NZCU Baywide
"The days of high interest rates for savers are well and truly gone – the challenge is staying ahead of inflation and reducing costs," said Mr George.
"There is a difference between products on offer and we congratulate the institutions that are offering outstanding value to New Zealanders."
Consumers can download the Canstar Savings & Everyday Banking Star Ratings at www.canstar.co.nz
ENDS
For further information, contact:
Brenda Newth, SenateSHJ +021 655 534
About Canstar:
Canstar provides Australia and New Zealand's only fully interactive online research service in retail and business finance.
Founded in 1992, Canstar Pty Limited (formerly CANNEX) is Australia and New Zealand's premier researcher of retail finance information for over 250 institutions such as Banks, Building Societies, Credit Unions, Finance Companies, Brokers, Mortgage Originators, Life Companies and finance related Internet Portals.
Canstar customers use the extensive database for competitor analysis as well as a means of disseminating their product range.   Canstar also distributes this information to print and electronic media for publication and to Agents, Accountants, Brokers and Internet Portals for use in advising their clients.
What are the Canstar star ratings?
Canstar researches, compares and rates the suite of banking products listed below. Results are freely available to consumers who use the star ratings as a guide to product excellence. The use of similar star ratings logos also builds consumer recognition of quality products across all categories.  Please access the Canstar website at www.canstar.co.nz if you would like to view the latest star ratings reports of interest.
Business deposits
Cash PIE
Credit cards
Credit card rewards
Home loans
KiwiSaver
Online banking
Personal loans
Savings accounts
Transaction accounts
Term deposits
COPYRIGHT
© Canstar New Zealand Limited (3225469), 2008-2013. The recipient must not reproduce or transmit to third parties the whole or any part of this work, whether attributed to Canstar  or not, unless with prior written permission from Canstar, which if provided, may be provided on conditions.
DISCLAIMER
To the extent that any Canstar data, ratings or commentary constitutes general advice, this advice has been prepared by Canstar New Zealand Limited (3225469) FSP 200146 and does not take into account your individual investment objectives, financial circumstances or needs.  Information provided does not constitute financial, taxation or other professional advice and should not be relied upon as such.  Canstar recommends that, before you make any financial decision, you seek professional advice from a suitably qualified adviser.  A Product Disclosure Statement relating to the product should also be obtained and considered before making any decision about whether to acquire the product. Canstar acknowledges that past performance is not a reliable indicator of future performance.