A pre-purchase property inspection is essential to avoid buying a lemon!
You've found the house of your dreams. Or it's a do-up that will give you a foot on the property ladder. Whatever you do, don't sign on the dotted line before booking a date with a building inspector.
Like cars, houses can be lemons. It's not just the house designs that matter. Properties can have hidden defects or maintenance needs that you're not aware of, that would only be picked up by a professional eye.
What is a property inspection?
A pre-purchase property inspection is a visual inspection by a qualified professional, who will then provide a written report outlining any significant building defects that have been discovered. Examples of building defects could be rotting beams, rusting roofs, old wiring, cracking walls, rising damp… the list goes on!
The building inspection cost is far outweighed by the benefit of knowing you dodged buying a dodgy building. Although it needs to be noted that no second-hand house will ever get a completely clean slate building inspection report.
What's more, a property inspection report can be a good bargaining wedge. You might be able to negotiate the sale price down or at least have certain defects fixed before you buy.
The NZ Institute of Building Inspectors advises that a pre-purchase building inspection will cover the following eight areas:
| | | |
| --- | --- | --- |
| | Outside | fences, drives, paths, retaining walls, clothes line. |
| | Under floor area | foundations, piles, timber framing, insulation, ventilation and ground moisture. |
| | Services | plumbing, drainage, electrical and other specialist services. |
| | Out buildings | garages, sheds, glasshouses and sleep outs. |
| | Exterior | cladding systems, weathertightness, foundations, windows, doors and timber finishings. |
| | Roof space | structure, insulation, underside of roofing. |
| | Roof | roofing materials, gutters and chimneys. |
| | Interior | Inspect each room to identify condition of floor, walls and ceiling, along with the presence of services and systems. |
How to get the best from your property inspection
If you are paying money for a property inspection, you want to make sure you're getting good value from it. Here are a few tips.
Use an expert building inspector
Make sure you're employing a qualified, experienced building surveyor AKA inspector. Uncle John might give your dream home the once over for free, but he isn't necessarily an expert in spotting hidden defects and knowing the Building Code. The professional you use should be a member of an organisation such as the New Zealand Institute of Building Inspectors, the New Zealand Institute of Building Surveyors, or the Institution of Professional Engineers New Zealand.
Know what the building inspection cost covers
Get a checklist from the inspector to find out what will the building inspection cost covers. Also, make sure the building inspection report will conform to the residential property inspection New Zealand standard NZS 4306.Look at these sample pre-purchase property inspection reports to find out what to expect. The property inspection fee is likely to be around $500 to $700, but it could save you thousands or even tens of thousands of dollars. Imagine if you bought a leaky home that needed rebuilding?
What types of defects might a property report pick up? Here are just a few examples…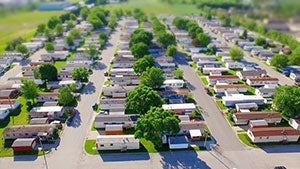 Rising Damp
Undersized structural members
Cracking in walls from differential settlement
Unapproved extension work
Unapproved plumbing and drainage work
Problems with plumbing and drainage
Lack of safety glass
Cracked roofing tiles or roof leaks
Issues with driveways, paths and retaining walls
Ensure your building inspection covers leaks
If your property was built or renovated from 1994 to 2005, it could lack weather tightness. Home buyers might need a specialist report if this is the case. Even then there is a certain amount of luck involved because the leaks are often hidden behind walls, which can't be ripped out for a house inspection.  Read Canstar's article on leaky homes.
Choose your own building inspector
Be cautious of property inspection companies recommended by the real estate agent. It's best to avoid using an agency because they may have a conflict of interest. More than one real estate agent has been censured for refusing to let home buyers use their building inspector of choice. The agents argue that certain building inspectors are too "over the top" with their inspections. The Real Estate Agents Authority, however takes a dim view of this practice.
Compare Home Loans with Canstar