New Zealand's Official Cash Rate (OCR) will remain at 1.75%, the Reserve Bank of New Zealand announced today (22 June), despite lower than expected GDP growth in the March quarter.
This is the fourth time this year the OCR has been held at 1.75%.
"GDP growth in the March quarter was lower than expected, with weaker export volumes and residential construction partially offset by stronger consumption," RBNZ governor Graeme Wheeler says.
"Nevertheless, the growth outlook remains positive, supported by accommodative monetary policy, strong population growth, and high terms of trade.  Recent changes announced in Budget 2017 should support the outlook for growth," Mr Wheeler says.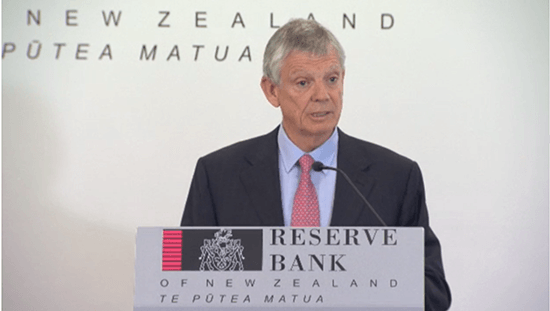 RBNZ also noted house price inflation has continued to moderate, especially in Auckland.
"The slowdown in house price inflation partly reflects loan-to-value ratio restrictions, and tighter lending conditions. This moderation is projected to continue, although there is a risk of resurgence given the on-going imbalance between supply and demand."
However, in the past, banks have increased mortgage rates irrespective of the OCR rate staying the same – or even being cut – so watch this space for changes in the home loan market.
Increased food, petrol prices boost inflation

Higher inflation in petrol and food prices has been the main contributor to an increase in headline inflation in the March quarter.
RBNZ says these effects are temporary and may lead to later changes to headline inflation.
Non-tradeables and wage inflation are moderate but RBNZ expects inflation in these categories to increase gradually, to bring headline inflation to the midpoint of the inflation target band of 1% to 3%. Long-term inflation is expected to stay at around 2% (where it sits currently).
"The trade-weighted exchange rate has increased by around 3% since May, partly in response to higher export prices.
"A lower New Zealand dollar would help rebalance the growth outlook towards the tradables sector," Mr Wheeler says.
While the global economic growth has increased, challenges continue around ongoing surplus capacity, as well as extensive political uncertainty.
RBNZ says monetary policy will remain accommodative for a "considerable period" and policy may need to be adjusted, based on "numerous uncertainties".
RBNZ consults on debt-to-income borrowing

Meanwhile, the RBNZ is seeking the public's feedback on RBNZ adding a debt-to-income limit to its macro prudential toolkit.
RBNZ has long been pushing to add a DTI limit measure to its toolkit. At its 11 May monetary policy announcement, RBNZ expressed concerns about homebuyers being unable to keep up with repayments from loans much greater than their income.
The DTI consultation paper suggests Auckland home owners face the greatest risk.
"Data for New Zealand's five largest banks suggested that, in the three months to January, nearly 60% of the new lending in Auckland involved a DTI ratio of greater than 5, while it was lower than 30% of the new lending for other regions on average," RBNZ states in the consultation paper.
However, the bank says, even if the DTI tool was added, it would not be used at this stage.
RBNZ's consultation on DTI limits closes on 18 August.
Enjoy reading this article?
Sign up to receive more news like this straight to your inbox.
By subscribing you agree to the Canstar Privacy Policy