The economic fallout from COVID-19 has left many people with an uncertain future when it comes to their finances. The term mortgage stress has been thrown around in recent media coverage. But what exactly is mortgage stress and how do you know if you are suffering from it?
The COVID-19 pandemic has sent shockwaves through the New Zealand economy. As businesses and the community strive to cope with the restrictions on international trade and travel, many people have found themselves with reduced work hours and pay. Others have suddenly lost their jobs. And it's all having a marked impact on household finances.
Mortgage stress is when a household finds it difficult to pay bills and also cover home loan repayments. In general terms, it's defined as directing more than 30% of your pre-tax income to home loan repayments. Since the nation went into COVID-19 lockdown back in March, there's been over 150,000 requests for either deferred or reduced mortgage repayments.

How do you know if you are in mortgage stress?
Mortgage stress means that a homeowner is finding it financially tough to meet their mortgage repayments. It's typically the step before a mortgage arrears or default – which means the homeowner has missed a payment or a series of payments.
One way to discover whether you're at risk of mortgage stress is to do a simple calculation. Are your mortgage repayments more than 30% of your combined household income. It's also a good idea to work out how you'd fare should your income reduce or the interest rate on your loan rise.
But some experts note that working out if you're in mortgage stress is a bit more complicated than just the 30% mortgage-to-income ratio. It doesn't necessarily take into account some benefits of paying more into a home loan, nor does it work for all income levels.
For example, a high income household may choose to spend significantly more than 30% of its income on improving its housing aspirations. But due to their high income, they still have more than enough money after housing costs to pay for adequate food, health, education and recreational activities.
What can I do if I'm in mortgage stress?
Right now, as of July 2020, the government has worked with retail banks to offer a Mortgage Repayment Holiday scheme. This allows people with residential mortgages affected by COVID-19 to defer repayments for up to six months. You can read about this in detail in our story: COVID-19 Mortgage Holidays: What Banks are Doing to Help Customers.
But if you're in mortgage stress, it's always a good idea to talk to your lender as soon as possible. They might be able to suggest other ways to make loan repayments more manageable, even if it's a temporary change. This could include:
Reducing repayments to a minimum or lesser amount, or to change the frequency of your payments. 

Accessing excess funds in the home loan. If you have an offset account, it could be possible to use these extra funds for repayments. However, this could increase the term of your loan and the amount of interest you could have to pay. If you have a redraw facility, it could be possible to withdraw some funds to cover repayments. Check the conditions of your loan. If you are applying for a repayment holiday, some lenders could restrict access to this redraw amount. Check with your lender.

Swapping to interest-only repayments. Although, it's a good idea to find out if there are any fees and charges related to this first.

Restructuring your loan. Options include staying with a principal-and-interest loan, but restructuring it, such as by moving from a variable to a fixed rate, or switching to a split variable/fixed arrangement. 

Refinancing with a new lender. Look for a different lender with a more competitive interest rate. It's important to keep in mind there could be fees and charges associated with refinancing with another bank. There could also be break fees charged by your bank if you want to swap lenders. You may want to consider all possible costs, as well as any benefits of refinancing, before making a decision.
If you'd like more information on switching your mortgage for a lower rate, check out our story Before Breaking a Mortgage for a Lower Rate, It's Worth Counting the Costs, and to compare the latest market rates, click on the button below: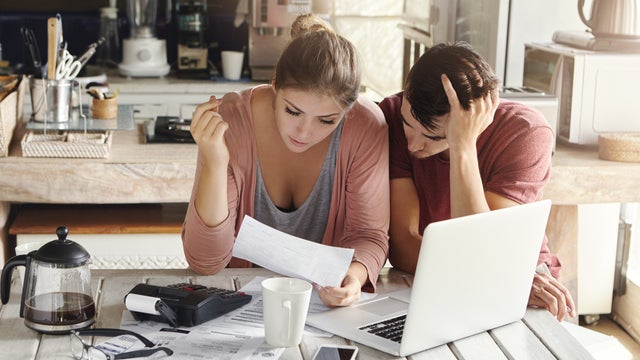 If you are in financial strife, you can also contact a community service that will help you manage your finances. You can get in touch with MoneyTalks, a free financial helpline for advice and support from trained financial mentors. MoneyTalks can also connect you with services in your community. There are also options such as face-to-face help from a financial mentor.
You might also be interested in the following articles:
Enjoy reading this article?
You can like us on Facebook and get social, or sign up to receive more news like this straight to your inbox.
By subscribing you agree to the Canstar Privacy Policy