New research confirms the fears of Kiwis struggling to get on the property ladder – house prices are growing at a rate incomes just can't match.  
New Zealand has the highest house price-income-ratio and has experienced a larger increase in house price over the past year than most of the world.
The International Monetary Fund's latest Global Housing Watch shows New Zealand has the most unaffordable housing – if you look at it through the lens of house prices as relative to income.
New Zealand's house price-to-income ratio has increased by 30% in six years; the baseline house price-to-income ratio in 2010 is 100 and New Zealand is now sitting at 130, according to OECD figures.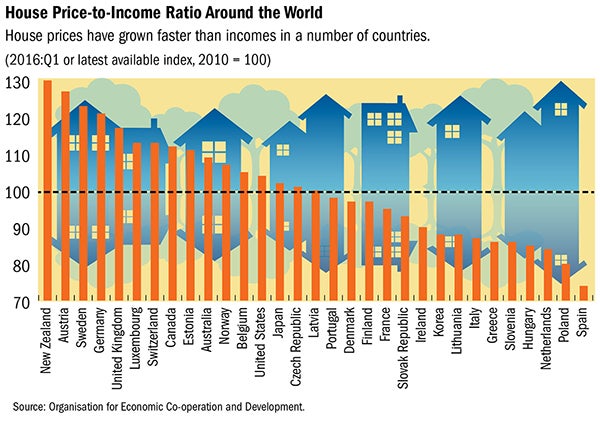 In addition, New Zealand, tying with Lithuania and Hungary, has had the largest increase in real house prices over the past year.  House prices in these three countries have each increased by 10% over the past year.
The Global Housing Watch tracks developments in housing markets across the world on a quarterly basis. It provides current data on house prices as well as metrics used to assess valuation in housing markets, such as house price-to-rent and house-price-to-incomes ratios.
Labour housing minister Phil Twyford is using the latest figures as ammunition against the Government's response to the housing issue in New Zealand.
"National's wilful negligence has allowed the housing crisis to spiral out of control. As a result, the country has become an international housing basket case," Mr Twyford says in a media release.
"John Key and his ministers now appear to be the only people in the world who don't believe there's a housing crisis in New Zealand.
"It's time for the Prime Minister to stop the charade, admit there's a crisis and get on with the job of building affordable houses."
However, the Government maintains that pending housing regulations –the requirement for investors to have a larger deposit, and which most banks have already adopted – will help to cool down the heated property market.
Mixed response from Kiwis with rising house prices
According to BNZ's latest confidence survey, 186 out of 541 respondents (34%) are unhappy about New Zealand house prices rising. On the other hand, 166 (31%) say they are happy about the state of house prices and 189 (35%) were indifferent.
"So one can say that most people are not unhappy that house prices are rising – which is why politicians tread very carefully (generally) when they talk about what they would like to see house prices doing," BNZ chief economist Tony Alexander says in the survey report.
However, this is the first time responses to the BNZ survey have shown more people are unhappy than happy about rising house prices since the survey first included the question in 2013.
NZ house prices divide real estate industry
Not only are New Zealand's house prices dividing consumers, but they are also having wide-ranging effects for those working in the real estate industry.
One respondent in BNZ's confidence survey is concerned about a flattening out of buyer interest in Auckland.
They describe the market as, "very flat" and are "uncertain if the very low volumes will continue."
"Buyers have no urgency…big changes in the market dynamics from a year ago."
On the other hand, a real estate industry member in Wellington says the market is "humming" and that investors are side-stepping new requirements to have a 40% deposit by investing in groups.
What to keep on your radar with New Zealand housing
Here are some key changes to look out for with NZ Housing
On 1 October, The Reserve Bank of New Zealand will enforce its new LVR rules, although banks have already rolled out changes. No more than 5% of bank lending to residential property investors across New Zealand would be permitted with an LVR of greater than 60% (i.e. a deposit of less than 40%). Further, no more than 10% of lending to owner-occupiers across New Zealand would be permitted with an LVR of greater than 80% (i.e. a deposit of less than 20%). Loans that are exempt from the existing LVR restrictions, including loans to construct new dwellings, would continue to be exempt.
On 15 August, Auckland city councilors passed the Unitary Plan, which involves the intensification of housing. Areas within Auckland will now be rezoned to allow for more multi-storey buildings. The Auckland Unitary Plan is designed to lead to the construction of 422,000 new buildings over the next 25 years. You can read more on the unitary plan here.
Auckland versus the world – House prices and incomes, as of 3Q 2015

Hong Kong, Household income HK$293,000 (NZ$52,130), median house price HK$5,561,000 (NZ$989,579)

Sydney, A$84,600 (NZ$87,826), A$1,032,000 (NZ$1,071362)

Vancouver, C$69,700 (NZ$72,513), C$756,200 (NZ$797,574)

Auckland, NZ$77,500, NZ$748,700

Melbourne, A$75,600 (NZ$78,481), A$730,000 (NZ$757,822)

San Jose, US$99,800 (NZ$118,848), US$965,000 (NZ$1,332,000)

Source: Demographia, as quoted in Stuff.co.nz