Canstar's 2016 Home Loan Star Ratings has researched 58 home loans from 10 lenders, with Kiwibank winning a 5 star rating for Outstanding Value in the floating rate loans category, for both owner-occupiers and investors.
In  Canstar's 2016 Home Loan Star Ratings Kiwibank has come up trumps, winning a 5 star rating for Outstanding Value – Floating Loans for both owner-occupiers and investors. With the Reserve Bank New Zealand (RBNZ) recently cutting the official cash rate for the fifth time in 12 months, we caught up with Kiwibank's   Leighton Roberts, Senior Product Manager – Lending, to find out what the current borrower appetite is like.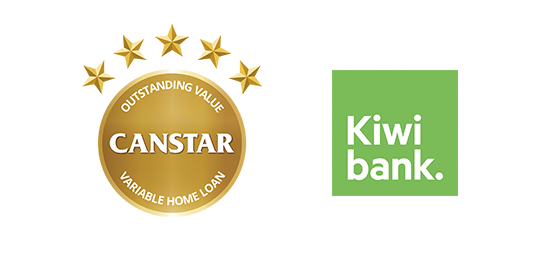 Q: Fixed or floating: what are customers choosing at the moment? 
A: Home Loan customers are still preferring fixed rates over floating rates but we have noticed a slightly increased appetite for floating products since the OCR (official cash rate) started decreasing again. Given there are more cuts expected floating rates can be a very good option for customers wanting to pay their loans down faster and with more flexibility.
Q:  What are some considerations that borrowers should weigh up when deciding between fixed and floating?
A: It really is about planning. Customers who like to know exactly what they are going to be paying over a period of time to help their budgeting often prefer to be on fixed rates. Customers who may be looking to sell, move, or expecting larger amounts of income over the near term might choose a floating loan so they have the flexibility to pay these off faster.
Often a combination of the two delivers the best results for customers. There are some great calculators online (including the Kiwibank Offset calculator) that can help show the benefits of variable products versus fixed and vice versa.
Q: When it comes to optional home loan features, what extras are popular with borrowers?
A:  Revolving facilities and offset accounts are very popular with our customers. Especially with lower deposit rates in NZ it does make sense for many home loan customers to use any extra cash they may have to offset the interest on their lending.
Q: I note that your 4 and 5 year fixed home loan rates reduced by significantly more than the 25 basis point cut to official cash rate in early March. Why was that?
A: Interest rates are at historic lows and for some customers who want certainty in their repayments over a long period of time slightly longer terms are attractive – the funding curve has flattened a lot over the last few months with the expectation that rates will be lower for longer so we have passed that onto our customers.
Canstar congratulates Kiwibank on its home loan win. Readers can compare current home loan products here.