ASB is giving their customers the opportunity to potentially save thousands of dollars on home loan interest costs with the introduction of their new online home loan payments function. Launched in February 2013, the payments function allows home loan customers to actively manage their variable home loan online by logging onto ASB FastNet Classic online banking, viewing their available account balances, and choosing to make extra variable home loan payments without the need to call, e-mail, or visit a branch.
The new function is proving popular with customers: ASB advise that in the first seven weeks from launch more than 3,700 ASB customers took advantage of the extra home loan online payment function, making total extra home loan payments $18,170,419. That represented an average payment amount per customer of $4,809 – although it also included 760 payments of $100 or less.
What are the main features?
ASB's extra home loan online payment function has the following features:
Ability to make additional home loan repayments online, immediately.
Available for variable rate home loans only.
Minimum repayment amount of just $50.
Additional repayment takes immediate effect.
No fees for making extra home loan payments using FastNet Classic online banking.
No limit to the number of times a home loan payment can be made.
The standout feature of the service, though, is the immediate "future repayment impact" that is displayed online once a customer nominates an extra repayment amount. The calculation easily and concisely summarises the potential for possible financial benefit of making the payment by showing the customer:
The estimated interest savings over the life of the home loan if the customer makes the one-off additional repayment and maintains their regular repayment at the current rate; and
The potential reduction in future regular repayments if the customer chooses to apply the one-off repayment against future costs.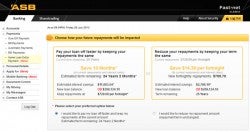 Why was the product developed?
"ASB's new extra home loan online payment function has been developed in response to extensive customer research and ongoing feedback," says Michael Ramsay (Head of Web & Mobile, Digital Channels, ASB) "The new product function has been seamlessly integrated into ASB's existing award winning online banking platform, as an additional payment option in FastNet Classic online banking. Small additional payments onto a home loan can potentially save thousands of dollars in interest costs over the life of that loan, so we feel that by making it as easy as possible for our customers to make additional repayments; we are helping them to make their home loan as cost-effective as possible."
Example: extra $50 repayment per month (assuming repayments are made for the remainder of the loan)
Mortgage
Interest rate
Monthly repayment
Total interest rate over loan term
Time to pay off
$300,000
5.80%
$1,760
$633,693
30 years
$300,000
5.80%
$1,810
$606,242
27 years, 11 months
Source: Canstar
"On a total market basis over $180 billion housing loans currently lodged with NZ Registered Banks, and with around 53% of these facilities on floating rates – the potential target for the new product facility is wide," says Michael. "Most importantly, this means that the potential savings for New Zealand households is enormous."
Canstar's verdict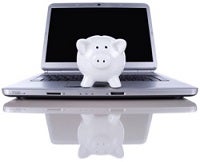 The integration of ASB's new extra home loan online payment function with the existing technology makes additional home loan repayments a smooth and easy transaction for customers. Displaying in precise dollar terms the potential impact that the extra repayment will have is a fantastic way to both motivate and educate home loan customers.
Setting the minimum additional repayment level at a low $50 per transaction and with complete flexibility in regards to the number and frequency of repayments is additional encouragement for customers to make repayments if and when they can. This should help customers to make the most of the potential savings on offer.