Barfoot and Thompson had the lowest number of new property listings for a July month in seven years, driven by winter blues and election distraction, the agency says.
Managing director Peter Thompson says a market slowdown in winter is common, but that the upcoming election is further stalling market activity.
"It can be hard to make even the best attributes of your home shine when the weather is miserable; that alongside school holidays and the uncertainty an election always brings, has led to some vendors holding off putting their home on the market," he says in a media release.
However, even taking into account the season, Barfoot and Thompson has had the lowest number of new property listings for a July month since 2010 – the agency listed 1173 new properties by month end. This is also a 25% decrease in volume compared with the previous month.
Including those advertised before July, Barfoot and Thompson had a total 4088 properties listed for the month. This is a 36% increase compared with a year ago, but a decrease of 5% compared with June.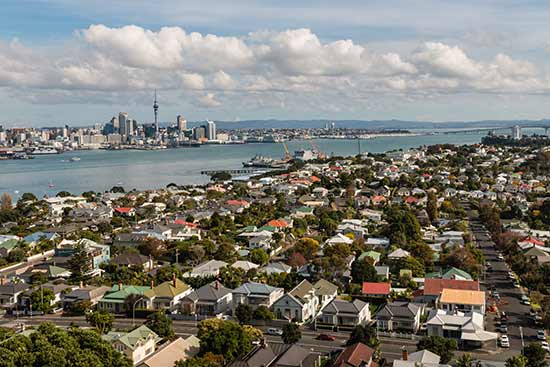 According to the latest Real Estate Institute of New Zealand (REINZ) figures, the number of days for a property to sell has also increased. The national median days to sell is 36 in June, up from 31 a year earlier.
Auckland has seen an even bigger increase in days to sell over the past year, from 31 days up to 38 days.
The rate of property price growth has also slowed in the big cities, although the regions have seen a boost.
Median prices in Auckland have increased slightly year-on-year, the City of Sails had the second lowest rate of growth in the country, in comparison to the 8% seen in June 2016 and 27.1% increase seen in June 2015," REINZ chief executive Bindi Norwell says.
Barfoot and Thompson figures also show a slowdown in Auckland property prices. The average Auckland property price in July was $908,319, a 5% increase year-on-year, but a 0.6% decrease compared with the previous month.
Mr Thompson says buyers and sellers will have to adjust to the changes.
"Without question, it will take some time for both buyers and vendors to navigate the changing market. Opportunities for vendors to sell are still plentiful, however, sellers need to be willing to set themselves realistic expectations and listen to what the market is telling them," Mr Thompson says.
"Vendors are less likely to see quick sales and significantly above average price increases, in the short term at least. However, this is still a good time to buy and sell in Auckland, given what are relatively small market movements.
"In this type of market, people are motivated by the more fundamental reasons to move house such as a growing family, change of job or downsizing. This could be seen as a return to house sales being influenced by those more traditional factors."
New Zealand's national election is on 23 September.
Enjoy reading this article?
Sign up to receive more news like this straight to your inbox.
By subscribing you agree to the Canstar Privacy Policy