Canstar's 2016 Home Loan Star Ratings has researched 58
home loans
from 10 lenders, with ASB winning a 5 star rating for Outstanding Value in both the fixed rate loans category for owner-occupiers and investors, and the line of credit category.  
In Canstar's 2016 Home Loan Star Ratings ASB has been successful, winning a 5 star rating for Outstanding Value – Fixed Rate Loans for both owner-occupiers and investors. ASB has also won a 5 star rating for the Line of Credit category.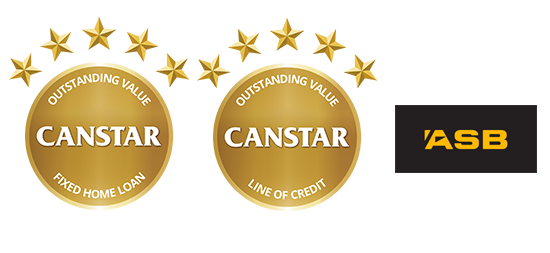 With the official cash rate declining by 1.25% over the past 12 months, Canstar caught up with ASB's  Vince Clark, Head of Home Lending & Small Business, to find out what the current borrower appetite is like.
Q: Changes in the cash rate are a prompt for borrowers to review their home loan. What type of preference do you see between fixed or floating rates?
A: Customer preference for fixed or floating interest rates depends typically on the pricing of the two types of interest rates relative to each other.  We have seen a reduction in preference for fixed rates since the start of the RBNZ's easing cycle for monetary policy and an increased preference for floating rates.
Q: With regards to fixed rates, what is the most popular term?
A: 1 and 2 year terms are currently the most popular option for customers who are comparing loans.  
Q: What are the main pros and cons of choosing a fixed rate?
A: The main benefit of a fixed rate loan is that it provides repayment certainty over the term. The main disadvantage is that borrowers, by locking in, don't get the benefit of any falls in interest rates during the term.
Q: What is your prediction  for the official cash rate over the next 12 months?
A: ASB Economists predict a further final two cuts to the official cash rate reaching a low point of 1.75%  
Canstar congratulates ASB on its home loan wins. Readers can compare current home loan products here.