Written by TJ Ryan & Michelle Norton
 Canstar Blue research shows the majority of Kiwis are happy with their real estate agent. But for people who are wanting a change or don't know where to start when looking for a real-estate agent, here are some tips that may steer you in the right direction.  
You can research homes to buy online until you know exactly which street you want to live on – but generally you still need to go through a real estate agent to conduct the purchase. The ideal real estate agent can help you buy your first home quickly and efficiently. The wrong agent might botch the transaction.
Thankfully, Canstar Blue NZ's 2015 research into real estate agents has shown Kiwis are pretty happy with their real estate agents.
73% say they maintain a good relationship with their real estate agent.
65% would recommend their real estate agent to a friend.
69% said their real estate agent is quick to handle requests and complaints.
However, we're more than willing to shop around for a new real estate agent. 77% said they had used multiple real estate agents in their time on the market.
So how do you find and choose a good real estate agent?
Best real estate agent for first timers: a first home specialist
It's not an easy market at the moment for first home buyers, so call in the specialists if you can. Many agents have multiple specialities (first home, housing types, particularly suburbs), so don't be afraid to ask agents what their sweet spot is. You need someone who can really help you find and snatch up your first home.
A specialist will usually not be someone who is only working part-time. You need someone who can jump on new listings and show them to you immediately, and chase up the response to your offer from dawn till dusk.
Ask for recommendations on the best real estate agent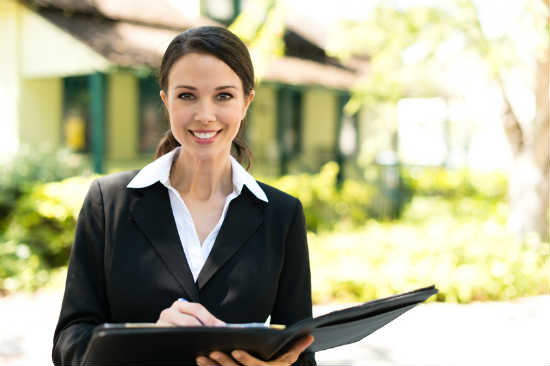 As Mark Sumich of Cahill Real Estate told the NZ Herald, "The best criteria is personal reference." 65% of survey respondents said they would recommend their real estate agent to a friend, so asking around is definitely a good start.
Sumich added, "It's critical to get someone who you can trust, especially when the market is difficult, because you could be in for a three-to-four-month relationship. Ask your friends who they have had a good, trusting relationship with."
What to Expect From Your Real Estate Fees
"Real estate agents are experts in the process of buying and selling property. As such, you can expect them to walk you through the process from the initial planning of the sale of your home to closing the deal on your next property purchase. They can also help you determine your buying power and refer you to lenders who are best qualified to serve you… When deciding on the agent that will do the best job for you, talk to several agents in your area, then compare costs, taking into account the services and level of skill and experience each agent offers."
Source: Realestate.co.nz
Pick a winner
In 2015, First National Real Estate was the winner of the Canstar Blue NZ award for most satisfied customers in a real estate agent. Meanwhile, Barfoot & Thompson received the industry award for body corporate management from REINZ (Real Estate Institute of New Zealand).
Compare First Home Buyer Loans
Aren't relatives the best real estate agent for me?
Relatives are not the best real estate agent for you, as a general rule of thumb. It might seem simpler and a great way to save on real estate agent fees, but the house buying process is tense enough as it is without having family so closely involved in that way. Many things can and do go wrong. You don't need that kind of frustration and resentment creeping into a family relationship.
Ask your potential real estate agent plenty of questions
Realestate.co.nz advises talking to several agents to help you find the best real estate agent for you. The website lists a number of important questions to help form your checklist for finding the ideal real estate agent. These questions are particularly important for First Home Buyers who are new to the game. The Citizens Advice Bureau reminds house buyers that their real estate agent must tell the buyer that they are entitled to seek legal or technical advice and give the opportunity to do so. The agent is also responsible for telling you about any defects that they know about, as well as any significant potential risks which they should know about based on their knowledge and experience (e.g. the agent should be able to tell, from the age and construction of the property, whether it might be a leaky home). They may not give false information about the property.
A Checklist to Find Your Best Real Estate Agent
Are you a member of the Real Estate Institute of New Zealand Inc. (MREINZ)?
How long have you been working as a real estate agent?
How long have you been operating in the area?
Are you able to provide progress reports once the marketing plan is underway?
Are you able to provide references/testimonials from recent clients?
What is the code of ethics you adhere to?
What costs will I incur (i.e. agent's commission, marketing costs and other fees)?
Look at the price tags
When you're looking in the window of a real estate office, look at what their highest and lowest listed property prices are. Does your price range fit somewhere in there? Your first home search is likely to get more attention from an agent if their main clients are in the same price bracket as you.
Check the Public Register for complaints
The Real Estate Agents Authority has a searchable Public Register. The public register is a database of all licensed real estate agents. You can look up their contact details, check that they are licensed, and see if they have had any complaints upheld against them in the past three years.
Compare First Home Buyer Loans with CANSTAR