One in 10 New Zealanders are prepared to lend more than $50,000 to loved ones, but many worry loans could destroy relationships, a new survey on debt reveals.
The Commission for Financial Capability kicked off its annual awareness campaign today (14 August), supported by Sorted,  with this year's theme: What does debt do for you?
As part of the campaign, the commission surveyed more than 1000 New Zealanders about their attitudes toward debt.
While eight out of 10 respondents say they would lend to a friend or family member, three quarters of those would lend only $5000 or less, and one in 10 would lend $50,000 or more.
And, loans will generally stretch as far as helping out with the essentials, rather than for luxuries. Those who said they would lend money, would lend for emergencies, not luxuries or lifestyle.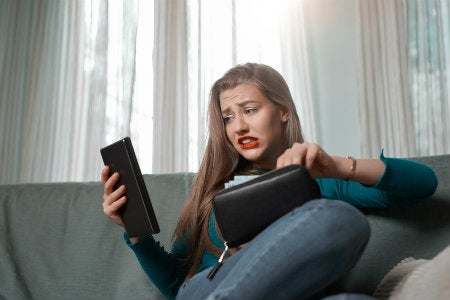 Interestingly, people are more reluctant to borrow money off their friends or family than to lend it to them, with only six in 10 saying they would take a loan from their loved ones.
But half of Kiwis are potentially losing sleep over debt. According to the survey results, half of the respondents strongly disagree with the statement, "I have debt, but I don't really think about it that much."
"We're used to being in debt, but that doesn't mean we like it," Retirement Commissioner Diane Maxwell says.
"Many people told us that lending and borrowing money can ruin relationships, so they'd only deal with small amounts, for a short time and often as a last resort.

"People also care how the money is going to be spent. They are happy to help family out, if they can, to avoid high interest rates, buy a house or household essentials or if they are sick," she says.
Avoid 'dumb debt' to stay in financial control

When it comes to borrowing from financial institutions, it's wise to avoid dumb debt to stay in financial control, advises the New Zealand Bankers' Association.
Despite the term "debt" often having negative connotations, Karen Scott-Howman, New Zealand Bankers' Association chief executive, explains that borrowing money can also give consumers and businesses more financial options.
"We often need to borrow money to buy our own home or get a business off the ground. That's the kind of debt our banks are here to support," Ms Karen Scott-Howman says.
However, there is a difference between "good debt" and "dumb debt", she explains.
For example, good debt means borrowing money to buy something that is likely to retain, or grow, in value over time. On the other hand, dumb debt includes borrowing for things that will lose value.
As well as avoiding dumb debt, the association advises New Zealanders to have a plan to pay off loans, ask the bank how to pay off the debt faster and to only borrow what you need.
"As responsible lenders, banks work hard to ensure their customers know what they're signing up to when they take out a loan. Being clear on your obligations as a borrower is really important," Ms Scott-Howman says.
"Banks are always willing to provide advice about the lending products and services that are right for your particular circumstances. It's worth having a chat and checking out your options."
Money Week runs from 14-20 August. More information is available on the Sorted website.
Enjoy reading this article?
Sign up to receive more news like this straight to your inbox.
By subscribing you agree to the Canstar Privacy Policy