There are a number of different payment methods that can be used when paying for a house deposit, but is a credit card one of them? Canstar investigates the risks involved in this process.
What is a house deposit?
When it comes to taking out a loan to buy a house, lenders will ask you for a deposit. The amount varies depending on how much you're borrowing and the value of the home you're buying (your LVR), but the most "standard" deposit is 20% of the loan amount.
What
What payment methods can you use for a house deposit?
There are a number of different payment methods that can be used when paying for a house deposit, which we've written in detail about here. A few of the main ones include:
Cheque: Although not as popular as they used to be, cheques are still a valuable way of paying for a house deposit. They are especially useful in auctions when a small down-payment (usually 5%) of the house must be paid on the spot.
Savings account: Transferring the money directly from a savings account is probably one of the easiest ways to put a deposit on a house. There are no tricks or gimmicks – it is your money and we have plenty of tips to help you save up for it.
Guarantor: A guarantor is someone willing to take on the responsibility of paying off a loan if you're ever unable to meet the repayment. Typically, these people are the borrower's parents.
Financial Gift: Some parents like to give their children money for a deposit as a gift. Many lenders allow this; however, certain conditions usually apply.
Can you use your credit card for a house deposit?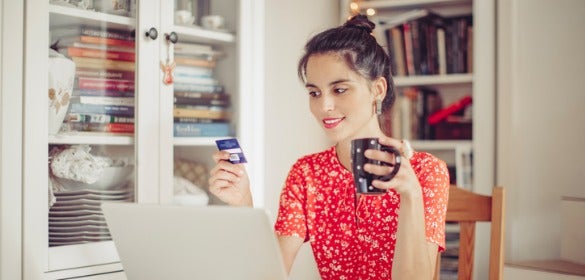 It is possible in some cases to use your credit card for a house deposit; however, there are a couple of things to be wary of before trying this method.
First of all, borrowing money for a deposit on top of taking out a mortgage adds extra layers of unnecessary stress and financial risk. You can avoid mortgage stress and falling into unmanageable levels of debt by saving up for your deposit rather than racking up a credit card debt.
Secondly, many lenders will ask for a declaration of where the funds for your deposit came from. If a lender finds out that you are using credit card debt for the deposit, you are unlikely to be approved for a home loan because most lenders require that at least 5% or more of the purchase price is paid for using genuine savings, such as cash in your savings account or transaction account.
Thirdly, if a lender does accept your credit loan as a deposit, they will still view your home loan as high risk and treat it differently. It is likely that they will considerably lower the amount they're willing to lend you, which may defeat the whole purpose.
Pros and cons of using a credit card for a house deposit
Pros:
Cons:

Possibility of buying a home without having to save for a deposit.
Faster than saving up for a deposit while the market moves on.

Paying off credit card debt and a mortgage at the same time.
Many lenders ask for a declaration of deposit fund history.
If your credit loan is accepted, lenders will lower the lending amount.
Lenders take into account your credit statement and debt.
You could potentially be paying up to twice the amount of interest on the amount on your credit card as you would be on your home loan.