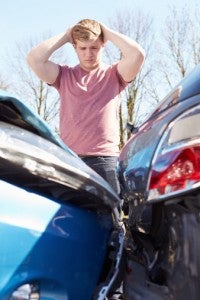 Nobody wants to crash their newly-bought (or old and faithful) car. It can happen though, and the repairs can potentially cost thousands of dollars. Your car might not even be repairable, meaning you've lost everything. You'll also need to pay for the damage to the shop.
If you have car insurance though, your out-of-pocket pain will be much less. The concept of motor vehicle insurance is very simple. You pay an annual premium to the insurance company and in return, the insurance company pays the cost of any losses from accidents or theft. It also pays out if you damage third party property such as someone else's car or the window of the shop you just mowed into.
If your car is "written off" in the accident, the insurance company usually pays you the "current market value" of the car, not the sum you insured the car for. "Written off" doesn't mean it could never be repaired. It means that repairs would cost more than the market value and the insurance company chooses the latter.
Car insurance comes in three main flavours:
Full comprehensive. This is the most common cover. The insurance company will pay out for damage or theft of your car and "third party" damage to other cars or property if you are at fault (or if the other driver can't pay).
Third party. This type of insurance simply covers the cost of repairing the other person's car or property if you cause an accident. It costs the equivalent of a cup of latte a week and is a good idea to buy if your vehicle isn't worth much or you can't afford fully comprehensive cover.
Third party fire and theft. This is as it says: third party insurance as well as cover for your vehicle if it's stolen or it catches fire.
There are also car insurance extras that you can choose to buy. The extras cost more but are sometimes worthwhile. Each insurer is different, but those extras may include: roadside breakdown assistance, a free hire car while your vehicle is being repaired, excess-free windscreen repairs, agreed value policies, and guaranteed no claims bonuses that you can't lose even if you crash.
Beware that there are rules with car insurance and if you break them your insurance company won't pay out. If you lie about anything, such as previous claims, who drives the vehicle most of the time, or driving convictions, your policy becomes void. Your claim won't be paid and the insurance company gets to keep your premiums. If you're drink driving and cause a crash, you won't be covered either.
For more information visit the Insurance Council of New Zealand's website. And check out our most recent car insurance ratings.