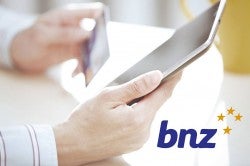 With nearly half a million businesses actively trading – or one business for every nine Kiwis – banking competition is fierce in this highly competitive market. This award is the culmination of an extensive comparison by financial research and comparison company Canstar, which put all eligible banks' business offerings through their paces to ultimately announce the overall winner in this specialised area.
We caught up with BNZ for a Q&A on current opportunities and challenges for small business, and the importance of having an online presence.
Q: Congratulations on the win! From analysis that your team does, what are some of the key opportunities and challenges for small business currently in New Zealand?
A: Thanks very much, we're really excited to have won it for the 5th year in a row!
We believe key opportunities lie in embracing technology.  Technology is evolving rapidly and can have a significant impact on the day to day running of their business.  It can speed up processes, reduce time and sometimes the need for dedicated resource, particularly administration, and help with managing cash flow and connecting with new and existing customers.  Mobile payment devices are now an affordable way to manage cash flow by collecting payments on the spot, reducing dependence on invoices and chasing debtors.
Having an easy to update website and links in to social media is also important.  It's an affordable way to market their business and provides the ability to connect directly with customers which can increase sales and feed in to product or service development.
Challenges can be unique to a business or industry, but for many, getting time to spend on their business and managing their cash flow will keep many business owners up at night.  They'll be used to keeping a close eye on incoming payments, expenses, and their terms of trade and supplier arrangements as well as wages, to name a few.
Q: What opportunities does having a smart online presence open up for small business owners?
A: It really is their marketing and communications department.  A smart online presence enables them to communicate effectively with their customers and to entice new customers to their business.  It can help them gain insight in to their customer service and their current products or service…They'll certainly hear how they are doing pretty quickly if they are active on social media! The good thing about that is they can get their personality and values across in their responses and potentially turn defectors around, all by the speed and integrity of their replies.
If they have an e-commerce platform, they can have the equivalent of a physical store without the overheads.
We've found not many small businesses have a website, so for some, it could provide a competitive advantage.
Q: How important is it for small business owners to have a tailored banking solution and a banking manager that understands their goals?
A: Very important. For BNZ this captures the values of our Small Business team.  Tailored solutions are about having easy to understand and relevant products.  For us, traditional banking products continue to be important but it is also essential that we have partners and non-traditional banking solutions which can have a tangible impact on our customers business, for example, PayClip, EdgePayroll and The Icehouse's BIQ tool.
Understanding our customers' goals means they need to be able to connect with us when they need us.  We can then work with them to understand their immediate and future goals.  This is about taking it from a transactional banking experience to one of value add.  Growth means different things for different businesses and for some, growth is simply about being more efficient and freeing up time. For others, we can help them with their banking requirements but also connect them with networks, specialists and investors that can help their growth aspirations here and abroad.
Q: BNZ is a consistent winner of Canstar's Bank of the Year – Small Business Award. What customer research do you undertake to ensure that you remain ahead of the competition?
A: We're very humbled that we've been chosen as the winner again, for the fifth year in a row. We know that we have to continuously look to improve our offering and service to customers, particularly to those that already bank with us.
Tangibly, we connect with our customers on a regular basis. We invite them to participate in forums with people who make policies that can impact their business, we run focus groups, we invite some to give us straight up feedback on their experience with us at strategy meetings or directly with our front line staff, we visit with them in their business and work with strategic partners who have the same values and customer centric view as ourselves.
We've also recently created a dedicated start-up team to relationship-manage a portfolio of new businesses, as we know that new start-ups often need more assistance in their formative year than any other business.
Canstar congratulates BNZ on its outstanding achievement. Read more about the Canstar small business findings here.