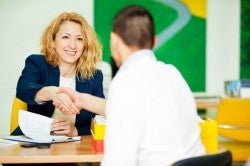 With almost half a million small businesses in New Zealand, the fact is that the individuality of small business means there is no "one size fits all" banking solution. Nevertheless there are some common products as well as some institutional factors that most businesses will, to a greater or lesser extent, require.
Banking products
Banking products that small businesses need include the following:
Outstanding value credit cards
In addition to secured loans, credit cards are also an essential tool of business operation for many. CANSTAR assesses the pricing and features of the business credit cards on offer from our financial institutions, for both business owners who juggle a debt and those who pay their card in full each month. You can compare business credit cards here.

What business credit cards earn Airpoints?
Outstanding value deposit accounts
It's not all about debt: businesses also need somewhere to stash their savings as well as requiring great-value transaction accounts. CANSTAR assesses the pricing and features of the products on offer, across both transaction and savings accounts. You can download our Business Transaction and Savings Accounts Star Ratings report here.

Business versus personal rates
Highly featured business loan products
The loan requirements of small business will vary – some may require a one-time loan while others require access to a revolving line of credit or business overdraft. So CANSTAR looks for the full suite of loan options available, including both residential and commercial term loans and residential and commercially-secured overdraft loans, and assesses the features offered on each to identify the products that provide the greatest flexibility.
Institutional Factors
As well as products, the other services offered by financial institutions can be crucial for helping a business stay on track. Some institutional factors for small businesses to look for include:
Online banking functionality
Personalised service is crucial – but small businesses also require excellent online banking functionality for sales, purchases and payroll facility. That includes general mobile banking, internet banking (the secure login) and website (the public, unsecure side of the website) functionality, as well as easily accessible small-business specific tools and information.

Businesses must be mobile friendly
Branch coverage
While much banking these days is done electronically, there are still important business functions that are best done in a branch. CANSTAR looks at the number of branches per person across both North and South Islands.
Other business services and advice
Small business is a diverse community encompassing business across numerous industries and at every stage of life. While all businesses have the common goal of surviving and thriving, each business will require a different path – and potentially, a different combination of financial products and coaching – to get there.
Business Insights and Education
Small businesses tend to be time-intensive, with most owners being hands-on in the day-to-day requirements. This can leave little time for research. Financial institutions can add a great deal of value to their small business clients by the provision of online economic and industry insights, analysis and education tools. It is in the interests of financial institutions for their customers to succeed financially and they can potentially play an important mentorship role.

Bank of the Year – Small Business
Relationship manager availability
Despite the increasing prevalence of online transacting and banking self-service, for the many time-poor small business owners the human factor is still an important feature in a good banking relationship. Whether face to face or on the telephone, the availability of well-trained, knowledgeable and productive relationship managers is paramount to the ongoing success of both the small business and the relevant division within a financial institution.