Taking on Trade Me and Gumtree in the buy and sell space, Facebook launches Facebook Marketplace
Are you a Gumtree fan? Or a Trade Me addict? If so, you're probably quite excited about Facebook's new competitive offering; the launch of its own online shopping centre, Facebook Marketplace. New Zealand (along with the US, the UK and Australia) is one of the few countries to be included in the initial rollout.

"Facebook is where people connect, and in recent years more people have been using Facebook to connect in another way: buying and selling with each other. This activity started in Facebook Groups and has grown substantially. More than 450 million people visit buy and sell groups each month — from families in a local neighborhood to collectors around the world."
Source: Facebook
Compare Credit Cards With Balance Transfers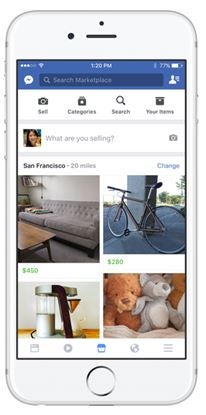 Like most Facebook functions, it will be easy and intuitive to use Facebook Marketplace, with a new "market" icon appearing at the bottom of the app.
In terms of functionality, it seems that Facebook Marketplace will be far more like eBay-owned Gumtree than eBay itself, in that searches are location-based.  Unlike both eBay and Gumtree, Facebook Messenger does not facilitate the payment of any items. Once you've found something you want to buy, it's over to you: you can direct-message the seller and work out payment and pickup details.
If you would prefer to be a seller, you simply:
Take a photo of your item, or add it from your camera roll
Enter a product name, description and price
Confirm your location and select a category
Post
Facebook Marketplace is available on the Facebook app for iPhone and Android.